Get fresh with this deliciously easy and healthy Chicken Fajita Salad with Homemade Cilantro Lime Ranch Dressing!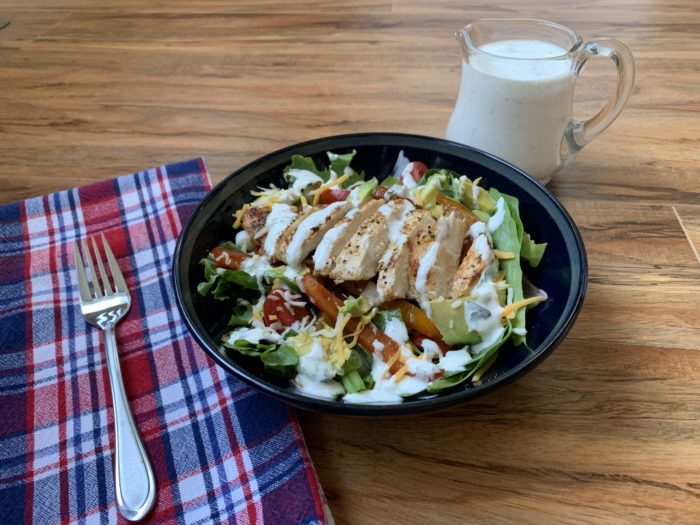 Some days you just need something crisp and fresh to eat, you know what I mean? Summer has definitely moved in and made itself right at home here in Indiana, and the last few days have been HOT. To be honest, the heat usually doesn't bother me. In fact, I absolutely love warm weather. I live for the sun and am one of those that covers up with a warm blanket anytime I sit on the couch, no matter if its 30 degrees or 80 degrees outside. You've heard of hangry? Well, I get cangry; if I'm cold, chances are I'm not in a good mood.
JW is the exact opposite of me. He lives for cool, crisp temperatures, loves sleeping in a freezing cold bedroom (I'll never understand it), and complains about it being too hot out when the mercury hits 70 degrees. He's a walking furnace. I'm always freezing. What can I say? It works. Or, at least it does until I go into the bedroom in the dead of winter and have to shut the windows because he's opened them. Ask me then and I won't be so sure it's working. (I kid, of course!! …kind of…)
Since we both spend most of our time outdoors or in a barn, summertime means lots of meals that require little effort and heating up of the kitchen. It also means lots of big salads. These Chicken Fajita Salads are the perfect answer. Loaded with tasty veggies, full of protein to fill us up, and easily to customize to everyone's taste, they make a perfect summer (or any time of year that you're craving a little fresh in your life) dinner option! Plus, the Cilantro Lime Ranch is super easy and goes wonderfully on basically anything!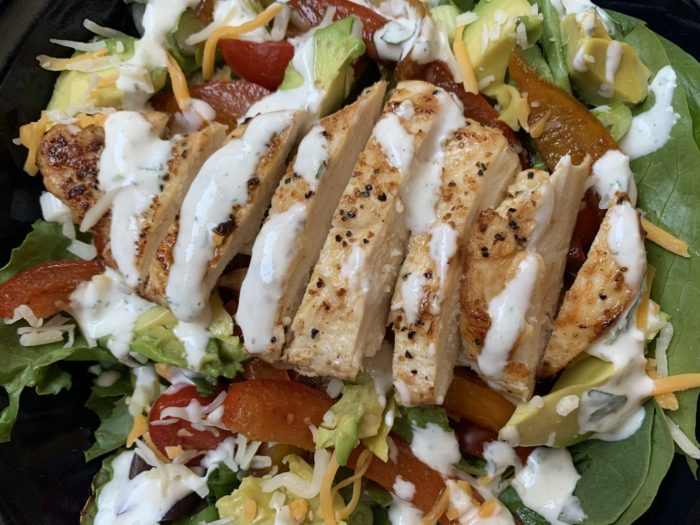 I always go ahead and get the ranch mixed up first because I find that it's better if it has a little time to sit in the fridge and thicken/let the flavors meld a little. Simply mix together Greek yogurt, mayo, milk, lime juice, onion powder, garlic powder, dried parsley, dried chives, salt, pepper, a little dried dill, and some cilantro. You can buy fresh cilantro and chop it finely, but I just love those little cups of "lightly dried" herbs you can find next to the fresh herbs at your grocery store. They last a lot longer and the chopping is already done for you!
Next, saute some bell peppers and onions in a little olive oil on the stove. Season with salt and cumin, and let them cook until they've softened and the onions have gone pretty translucent. In the meantime, prep your chicken breasts. I love to buy the thin sliced breasts and pound them down a little more between a couple of sheets of plastic wrap…the thinner the better in my book. If I can't fine the pre-packaged thin sliced ones, I just buy regular chicken breasts and butterfly them, them pound them out a little. Season both sides with salt and some Lawry's Lemon Pepper. Yep, I said lemon pepper! Combine some butter and olive oil in a non-stick skillet, and brown the chicken on both sides. Since they're thin, they'll only take a few minutes one either side. I love cooking big batches of this chicken and using it for lunches–wraps and salads–through the week!
While everything is cooking, build your salad. I love to mix lettuces (usually hearts of romaine for some crunch and spring mix for the health factor). Then I use diced green onions, cherry tomatoes, shredded cheese (pick your poison here…I usually go for Colby Jack, but Pepper Jack would be awesome if you like some heat), and avocado. Use what ever veggies float your boat. Corn, cucumbers, black beans…go to town. For JW, I always put some crunched up tortilla chips on his. If you wanted to make this a vegetarian-friendly meal, you could easily substitute black beans for the chicken. Then. put a tasty helping of the peppers and onions on, as well as some of the chicken that's been sliced. Drizzle on some of that creamy ranch dressing, and you're done!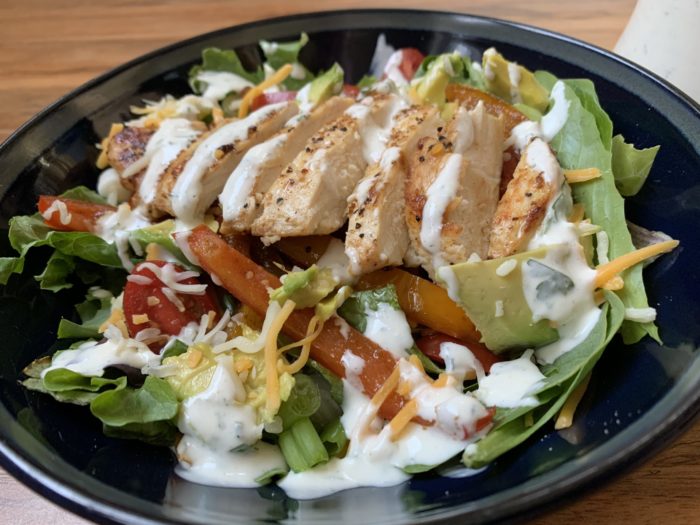 *As an Amazon Associate, I earn from qualifying purchases.*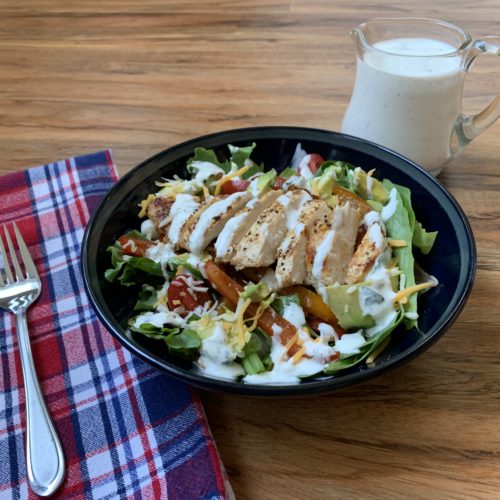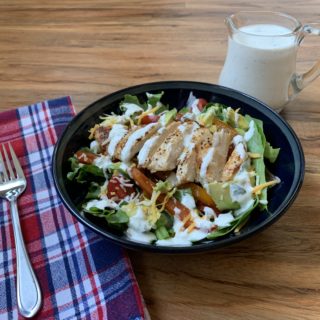 Chicken Fajita Salad with Homemade Cilantro Lime Ranch Dressing
Get fresh with this deliciously easy and healthy Chicken Fajita Salad with Homemade Cilantro Lime Ranch Dressing!
Ingredients
4

Thin Sliced Chicken Breasts

2

tsp

Lemon Pepper

Approx.

1/2

Large Onion, Sliced

1

Yellow Bell Pepper, Sliced

1

Red Bell Pepper, Sliced

2

tsp

Ground Cumin

1

tbsp

Olive Oil

2

Bags

Prepared Lettuce (Such as Romaine and Spring Mix)

1

Avocado, Diced

More to Taste

Cherry Tomatoes, Halved

Shredded Cheese

Salt and Pepper
Cilantro Lime Ranch Dressing
3/4

Cup

Plain Greek Yogurt

3/4

Cup

Mayonnaise

1/3

Cup

Milk

2

Tbsp

Lime Juice

2

Tbsp

Cilantro, Diced

1

Tbsp

Olive Oil

1 1/2

tsp

Garlic Powder

1 1/2

tsp

Onion Powder

1 1/2

tsp

Dried Parsley

1/2

tsp

Dried Chives

1/2

tsp

Dried Dill

1

tsp

Salt (Kosher)
Instructions
Combine all ingredients for the dressing and mix well. Refrigerate until ready to use.

In a medium non-stick skillet, heat 1 tbsp of olive oil over medium heat. Add the onion and diced bell peppers, seasoning with some salt, pepper, and the ground cumin. Allow to saute until the onions turn translucent and the peppers soften.

While the peppers and onions are cooking, season both sides of the chicken with the lemon pepper and some salt. If desired, you can place each chicken breast between two sheets of plastic wrap and pound thinner before you season it. Once the chicken is seasoned, brown it on both sides in a non-stick skillet in a little olive oil and butter (optional) until the chicken is cooked through. Depending on the thickness of the chicken, this will take about 4 minutes per side.

Build your salads. Place your preffered lettuce on a plate or in a bowl, and top with diced avocado, tomatoes, shredded cheese, and any other topping you desire. Place the sauteed peppers and onions on top, then the cooked, sliced chicken, and top with the dressing.
Notes
If you would prefer a vegetarian version, substitute black beans for the chicken.
Grilled corn and crispy tortilla strips are also delicious additions!