Intimidated by cooking fish at home? Don't be! This easy Never Fail Baked Salmon will have you serving up a healthy meal like a pro in less than 30 minutes!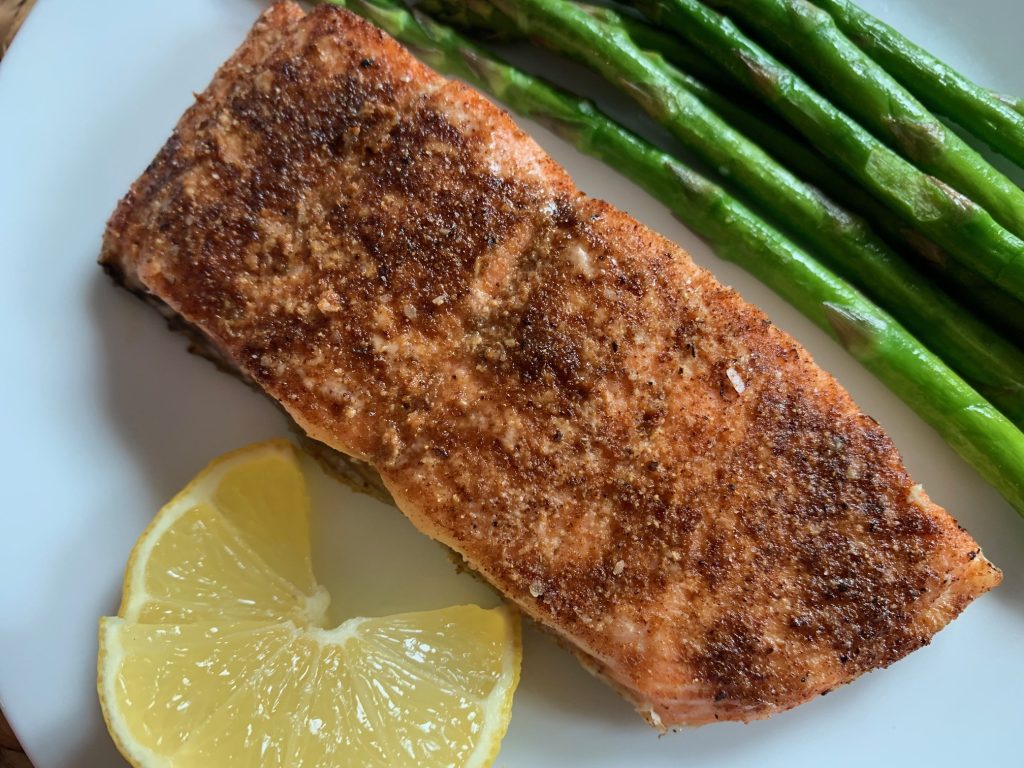 Seafood can be pretty intimidating to cook at home. Get it right, and it's absolutely delicious. But get it wrong…and…well….yikes.
There was definitely a time when I wouldn't even attempt to cook fish at home. We really only ever ate seafood if we went out to eat when I was growing up, so it wasn't something I was really comfortable with. That all changed, though, when I met my husband. He grew up Catholic, and eating fish on Fridays during Lent was very much a tradition for him.
I found this method online, and I've never looked back. It's SO simple! You can change up the seasoning how ever you want, which makes it even better in my book! Sometimes I marinate my salmon, like for these amazing Cooked Salmon Poke Bowls. Sometimes I sprinkle them with a little salt, some lemon zest, and minced garlic. And sometimes, I use the spice mix in this recipe…but to be honest, this post is ALL about the method!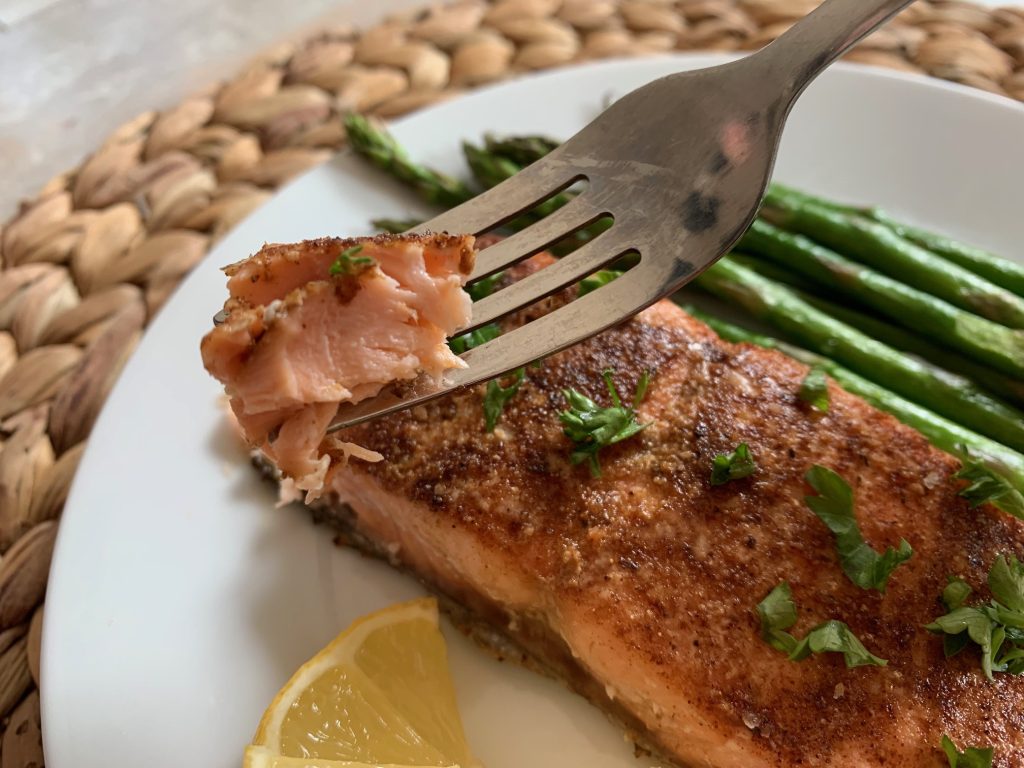 Tips and Frequently Asked Questions:
-Should I buy a large piece of salmon and cut it up, or should I buy smaller pieces? That is fully up to you! I like to make a LOT of salmon at once so that I can make our favorite Salmon Salad with the leftovers, so I generally buy a very large fillet and trim it into smaller (1 1/2 – 2 inches wide) fillets. But you do what works best for your situation!
–Should I leave the skin on or remove it before baking? This is another personal preference situation. I prefer to leave the skin on, mostly because I find it's easier to remove the skin after the salmon has been baked. Simply take a spatula or turner and push it between the meat and the skin. I also leave the skin on because I prefer to handle the raw fish as little as possible to keep it from breaking down. We live in small town Indiana, so the salmon I have access to at the super market is never super off-the-boat fresh, and tends to become mushy if it's handled too much.
–What is the white slimy stuff that comes out of the fish while cooking it? Is it safe to eat? The white stuff that appears on salmon while it's cooking is a protein that is naturally in the fish called albumin. I've read that if you heat the fish slowly it helps prevent the albumin from becoming visible, but this hasn't been my experience. It doesn't look great, but it's perfectly harmless and flavorless, and totally safe to eat. If it grosses you out, gently scrape it off! It's what I generally do.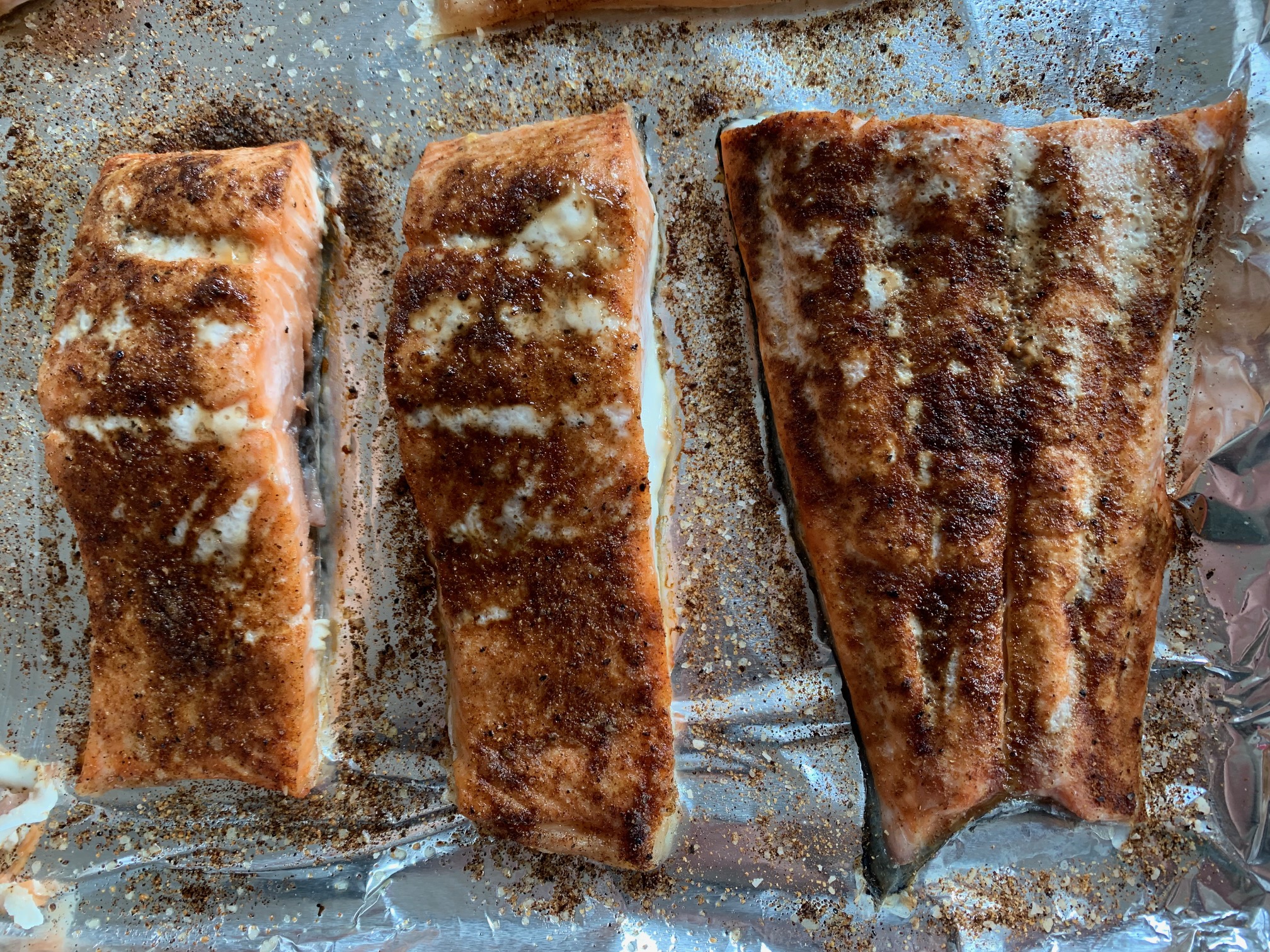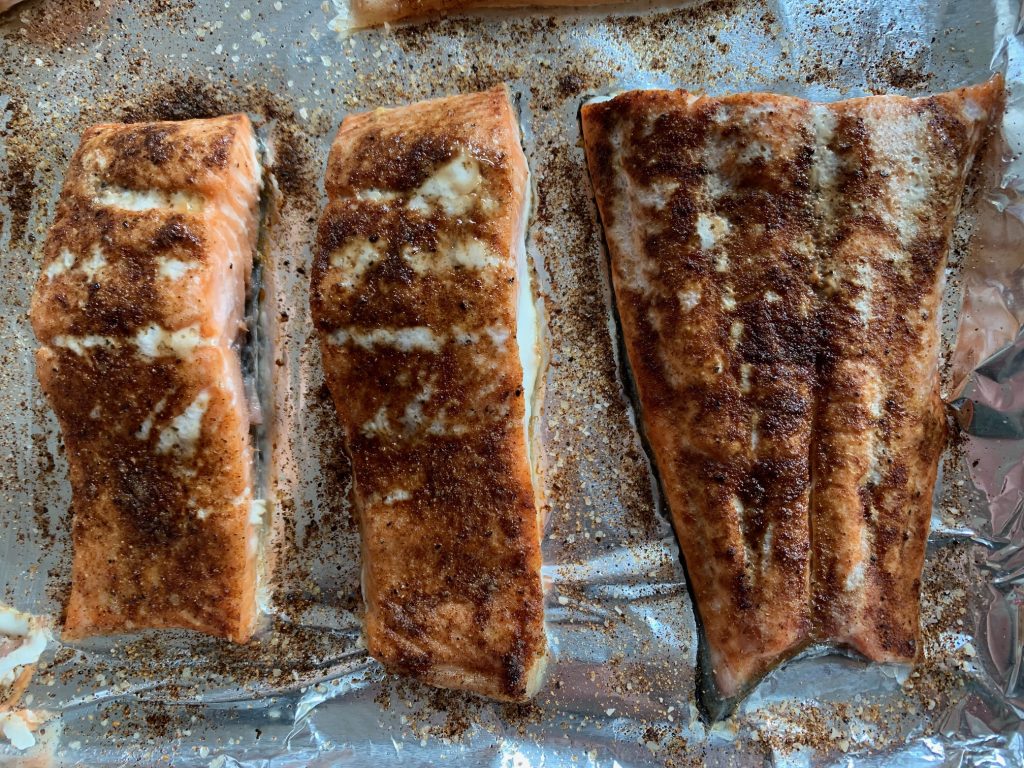 –Do I bake the salmon for the same amount of time if I have a gas oven? We recently moved into a house with a gas range, and while I LOVE cooking on it, baking in the oven has proven a little tricky. Depending on your oven, I would recommend a slightly longer baking time. I usually end up pulling mine out of the oven at about the 30 minute mark.
–What are some other ways I can season the salmon before baking it? There are tons of easy seasoning mixes out there, or you can create your own. Sometimes I like to give it an Asian flare and marinate it, like when I make these Cooked Salmon Poke Bowls. Other times, I'll use my garlic press to press a couple of cloves of garlic and mix that with some kosher salt and the zest of a lemon, then spread that over the fish. Other times I'll take the easy way out and use a healthy coating of my favorite Lakeshore Drive Seasoning from The Spice House (this is not a paid promotion!! I just love this stuff!).
–What can I do with leftover salmon? Salmon leftovers never last long in my house because my family is obsessed with this Salmon Salad. You could also make this Prosciutto and Asparagus Pasta, using chunks of salmon instead of the prosciutto. You'll just need to adjust the salt level. Or, you can make Grandma's Salmon Patties from my bff Liz over at The Farmwife Cooks. Leftovers don't have to be boring!
Ingredients Needed For Never Fail Baked Salmon:
Salmon Fillets, 1 1/2-2 inches wide
Olive Oil
Paprika
Garlic Powder
Onion Powder
Kosher Salt
Pepper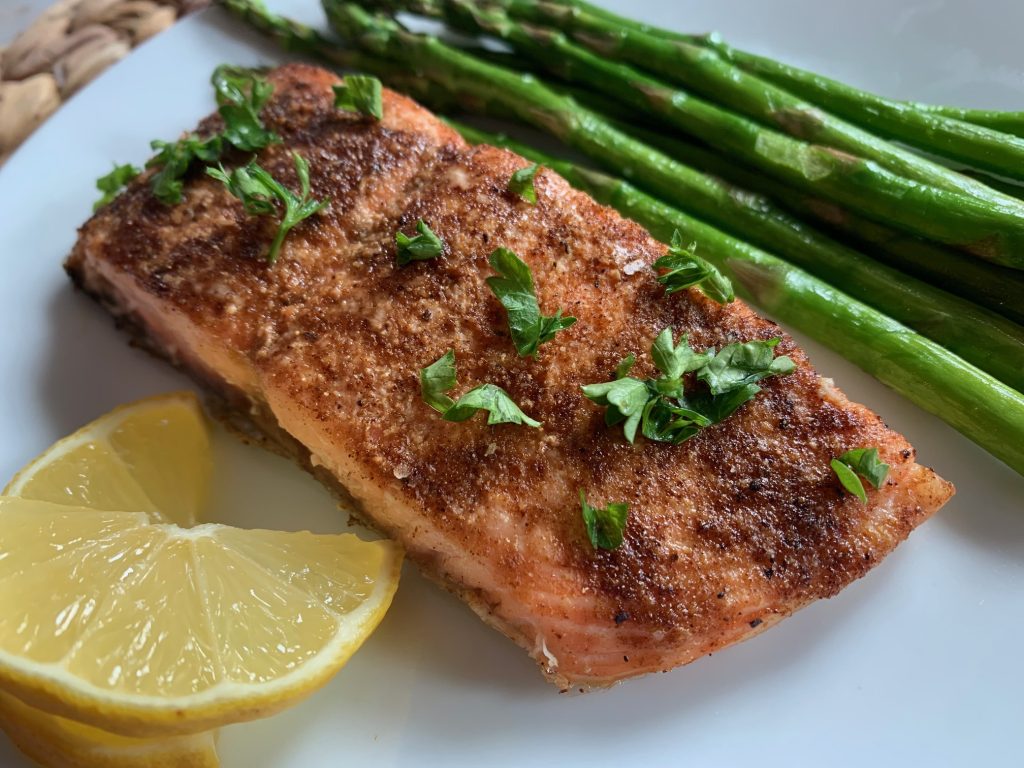 How to Make Never Fail Baked Salmon:
Line a baking sheet (like this one!) with aluminum foil. Drizzle a little olive oil on the foil and spread it around with a brush or your fingers to create a non-stick surface.
In a small bowl, combine the paprika, garlic powder, onion powder, salt, and pepper. Gently pat the salmon filets dry with a paper towel and space evenly on the prepared baking sheet. Drizzle the salmon with a little olive oil and spread it around on the fish. Season the fish evenly and generously with the spice mix.
Place the baking sheet in a cold oven. Set the oven to 400 degrees and set your timer for 20 minutes. Walk away and enjoy a glass of wine, have a dance party, or cook up some sides. Or all of the above. When the timer goes off, you'll have perfectly flakey, delicious salmon. If you prefer your salmon well-done (I won't judge you, I promise), leave it in the oven for about 5 more minutes.
**As an Amazon Associate, I earn from qualifying purchases at no extra cost to you.**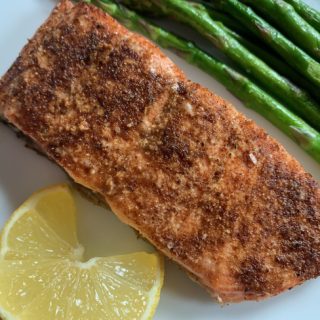 Never Fail Baked Salmon
Don't be intimated by cooking fish at home! This easy Never Fail Baked Salmon will have you serving up a healthy meal like a pro in under 30 minutes!
Ingredients
Salmon Fillet

any amount, cut into 1 1/2-2 inch wide pieces

2

tsp

Paprika

1

tsp

Garlic Powder

1

tsp

Salt

1/2

tsp

Pepper

1

Tbso

Olive Oil

Lemon Wedges, optional
Instructions
Prepare a baking sheet by lining it with aluminum foil. Drizzle a little olive oil on the foil and spread it around to grease the pan.

Cut salmon into 1 1/2 to 2 inch wide fillets. Place fillets on the baking sheet and drizzle with a little olive oil.

In a small bowl, combine the paprika, garlic powder, onion powder, salt, and pepper. Sprinkle seasoning mix over the fish, making sure to coat it evenly and generously.

Place the salmon into the oven. Turn the oven on to 400 degrees and set a timer for 20 minutes.

Serve with a squeeze of lemon, if desired.