Zesty, flavorful Corn Jalapeno Ranch Dip is the perfect dip to make for any tail gate, pot-luck, party…or even just a movie night snack! It's so quick and easy that it is sure to become one of your go-to recipes!
Ya'll, I love a good party. I really don't care what the reason is. Celebrating a holiday? Cool! Birthday, game day, graduation, family reunion, Taco Tuesday? Let's do this! It can literally just be a few loved ones gathering, and I'm all in. Don't get me wrong, like any good introvert I love (read: need) my alone time, too, but I also really just love celebrating life and being around the people I care about.
The only problem is that when I host a party, or when I go to a pitch-in of some sort, I tend to….overdo….it a little on the food. I can't help it! I love to cook and bake (I know, I know…it's shocking. But there it is.), I love sharing the food I make with others, and I love trying out new recipes and seeing if other people like them as much as I do. All this means that I end up spending A LOT of time cooking before pretty much any gathering I attend. I honestly don't mind, I wouldn't do it if I did, but it does cause it's own set of problems. Since punctuality isn't one of my God given strengths, this tendency to do too much often makes me even later than I usually would have been otherwise. Then there's the clean-up. So. Many. Dishes.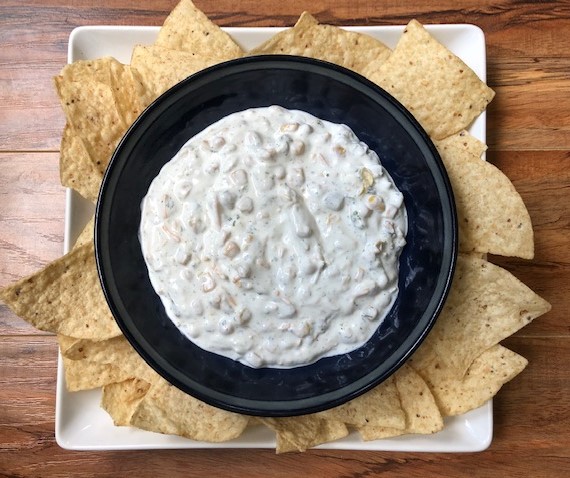 And then the heavens opened up and this dip came across my radar. My cousin made it for one of our family gatherings, and I learned fast that the stuff is addicting. You know that slogan from the popular chip company, "You can't eat just one!"? Well, that is definitely the case here. It's so good that since I started making it I have people constantly requesting I bring it to gatherings. And you won't believe how easy it is!! You dirty up a mixing bowl and a spoon. That's it. No measuring, no dicing or chopping, no anything other than opening up the ingredients, dumping them in the bowl, and mixing them up. Then attempting to not eat it all in one sitting. Oh, and don't let the jalapeno in the title scare you off! I promise it isn't spicy unless you want it to be!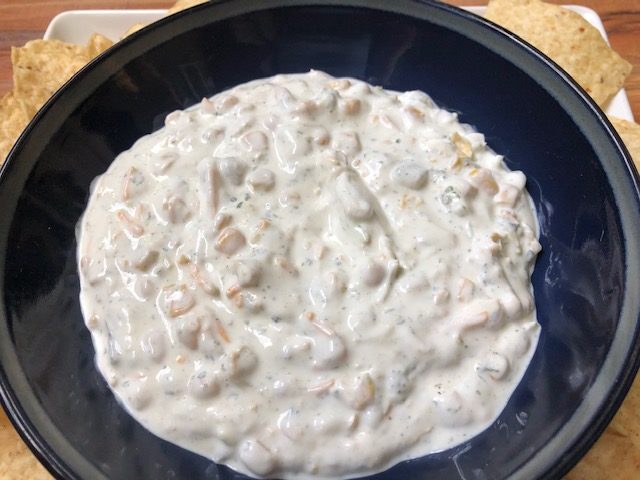 So, the instructions. Are you ready for this? Here we go: mix all of the ingredients in a bowl. Serve immediately with tortilla chips or refrigerate and serve later. Your choice. If you like things more spicy, add the whole can of jalapenos. If you are like me and like it a little more mild, or are making it for a crowd that you're not sure about, add less (I usually add about a tablespoon of them and stop at that…using the spoon I'm mixing the dip with so I'm not dirtying up another spoon). And you're done! Party on!
This post is sponsored by The Glass Barn, Indiana's Corn and Soybean Growers, but all thoughts and opinions are my own.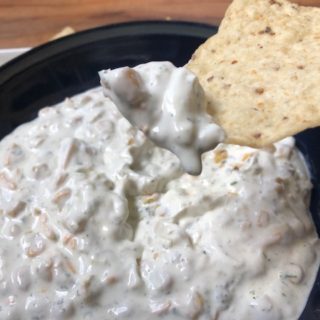 Corn Jalapeno Ranch Dip
Zesty, flavorful Creamy Corn Jalapeno dip is the perfect dip to make for any tail gate, pot-luck, party...or even just a movie night snack! It's so quick and easy that it is sure to become one of your go-to recipes!
Ingredients
1

24 oz

sour cream

2

envelopes ranch dip mix

2

cans

southwest or fiesta style corn

drained

1

can

diced jalapenos

drained

2

cups

shredded cheese

Colby, Mexican Style, or Cheddar
Instructions
Combine all ingredients in a large mixing bowl. Serve immediately or later with tortilla chips; refrigerate until ready to serve.
Notes
You can adjust the amount of jalapenos to your personal taste; I typically only add a little over a tablespoon.