Break out the Instant Pot and make these oh-so-delicious Instant Pot Carnitas! They are tender, juicy, and flavorful…plus they're ready in a fraction of the time thanks to the electric pressure cooker!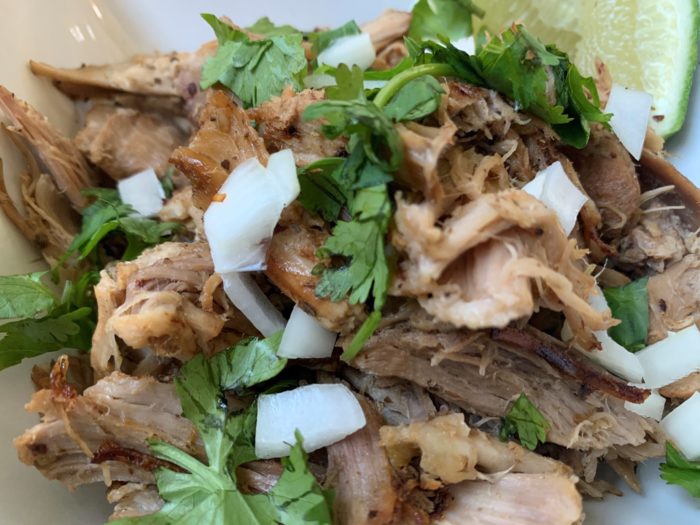 I live in a town that isn't exactly known for its options when it comes to dining out. The choices we do have are pretty much limited to a (admittedly fantastic) Chinese buffet, a few pizza places, a drive-in that's only open during the spring and summer months and has the best chili dogs (they call them Spanish Dogs) ever, and not one but TWO Mexican restaurants. Discussions about where we want to go out to dinner pretty much entail what nationality we want, and when Mexican is picked, North Mexican or South Mexican. It's not that they each feature dishes from different regions of the country…nope. One is on the North side of town and the other is on the South side.
I get into grooves and moods with my Mexican restaurant dining habits. For multiple visits, I'll order one type of dish and stick with it. Sometimes it's steak tacos…Mexican style (with lots of cilantro, onions, and a squeeze of lime). Sometimes it's as simple as an a la carte chicken burrito. Other weeks it's arroz con camarones. And it's always, always (well, unless I'm pregnant like right now. Sigh.) with a margarita on the rocks, no salt.
One of my constant go-to dishes at any Mexican restaurant, though, are pork carnitas. Tender, slow roasted pork that is shredded and served with all of the fixings for delicious build-your-own tacos are a can't miss. Mouth watering. I never considered trying to make them at home, though, because I knew the pork took hours upon hours to cook properly, and I'm hardly ever on top of things enough in the morning to get dinner going. That is, until, I got my Instant Pot a couple of years ago for Christmas. Talk about a game changer! Now all of those dishes that would usually take forever, like carnitas, can be ready in basically the time it takes to make any other dinner! Now all I have to do is make sure I pull the meat out of the freezer in time to defrost for dinner. I started playing around with ingredients and let me tell you, this recipe is so easy, and so good, you'll be putting it on your normal rotation, too!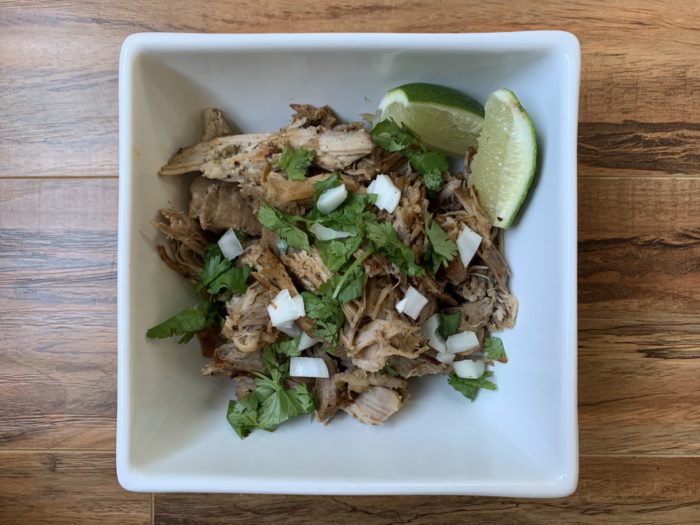 I like to use pork shoulder when I make carnitas, but you can really use any pork roast-type cut you prefer. Start off by making a quick rub: combine olive oil, oregano, cumin, minced garlic, and salt. Rub that tastiness over the top of the pork, using it all. Put a little olive oil in the bottom of your electric pressure cooker to keep anything from sticking, and put a layer of sliced onions down. Lay the pork on top of the onions. Pour the orange juice, chicken broth, any remaining onions, and the can of drained diced jalapenos (you can also use diced green chiles if you prefer things to be a little more mild) around the pork. Pop the lid on, set to pressure cook for 1 hour, and allow to naturally release for 20 minutes. Manual release the rest of the way. Open her up and use two forks to break the pork up into chunks. You can then refrigerate the pork (and the liquid! Don't forget that liquid!) for later, or move on to the next step right away.
If you want some crispy brown edges to the pork (highly recommended!), do the following right before you're ready to eat: either in a skillet or the oven (I prefer a skillet because I can keep a better eye on it), place some chunks of pork and use two forks to shred down more. Allow to brown until there are crispy edges, stirring occasionally. Once there are some crispy bits, I always add in a bit of the cooking liquid so they are nice and juicy. Makes for messy eating but it's worth it!!
To serve, we prefer flour tortillas around here. If you like corn better, go for it. Put some meat on your warmed tortilla, then a layer of lightly dressed broccoli slaw (I just pick up a bag of the pre-shredded broccoli slaw mix at the store and dress it with some jarred slaw dressing) for some tang and crunch, then top that with some chopped cilantro, diced white onion, and a little squeeze of lime. Oh my, my, my.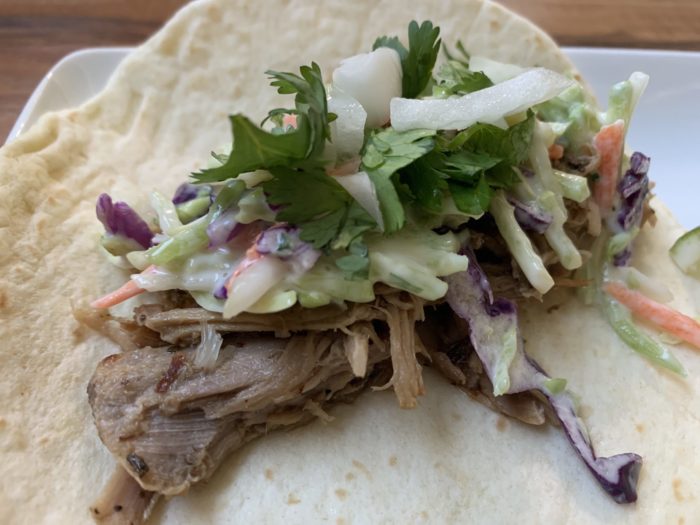 Oh, and if you want to freeze the carnitas to eat later, just put them in a large gallon freezer bag and defrost/reheat when you're ready to eat!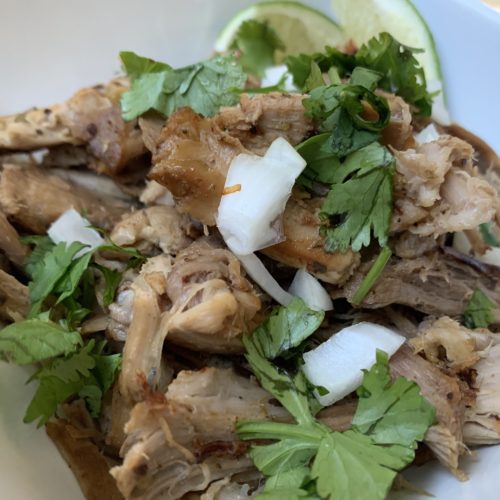 Instant Pot Carnitas
Break out the Instant Pot and make these oh-so-delicious Instant Pot Carnitas! They are tender, juicy, and flavorful...plus they're ready in a fraction of the time thanks to the electric pressure cooker!
Ingredients
1

Pork Shoulder or Pork Roast

1

tbsp

olive oil

+ 1 tbsp

1

tbsp

oregano

2

tsp

cumin

2

tsp

salt

3

cloves

minced garlic

1

onion, sliced

3/4

cup

orange juice

3/4

cup

chicken broth

1

can

diced jalapenos or green chiles

drained
To Serve
flour or corn tortillas

taco size

1

package shredded broccoli slaw

3

tbsp

jarred slaw dressing

approximate

diced white onion

chopped cilantro

lime wedges
Instructions
Mix 1 tbsp olive oil together with the oregano, cumin, minced garlic, and salt to for a paste. Spread on top of the pork shoulder.

In the bottom of the electric pressure cooker, spread 1 tbsp of olive oil followed by the sliced onions. Place the pork shoulder, rub side up, on the bed of onions. Pour the diced jalapenos in the pot, along with the orange juice and chicken broth.

Put the lid on the pot and set to pressure cook for 1 hour. Allow to release naturally for 20 minutes, then manually release the rest of the way.

Remove the pork from the pot and shred with two forks. Brown the meat on a large skillet until the ends get a little crispy.

Mix the broccoli slaw with the cole slaw dressing. I prefer mine lightly dressed, but add more dressing as you see fit.

Once the pork is slightly browned, add some of the cooking liquid into the skillet and let simmer for about a minute.

Serve the pork on warmed tortillas topped with the slaw, cilantro, onion, and a squeeze of lime.