Looking for little bit of a change in your green beans routine? Mama Maria's Dutch Style Green Beans are a deliciously easy way to eat your veggies!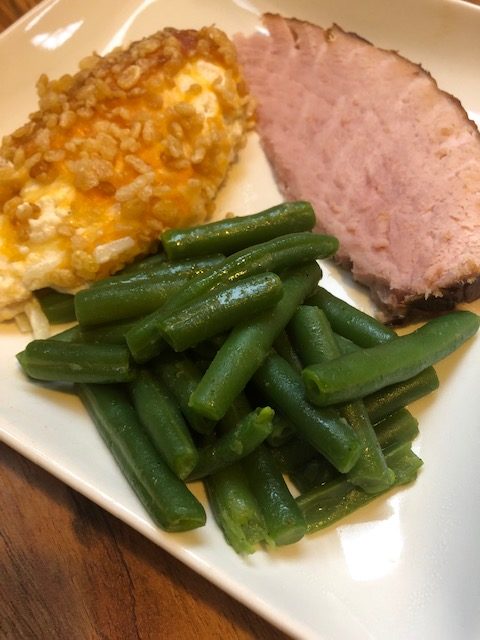 Chances are that if you grew up in the Midwest like me, you grew up eating green beans a certain way. In Indiana anyway, they're usually cooked until very tender (aka soft) with either bacon or ham and onion. My mom always added a dollop of bacon grease and a pinch of sugar, too. Or, we'd have them in what's called Hoosier Stew (essentially just smoked sausage, potatoes, and green beans all cooked in a pot together. YUM. Check out my friend The Farmwife Cook's version here!). Both options are absolutely delicious and universally liked…in other words even picky kids will eat them up.
Not long after my Dutch husband and I started dating, he took me to his parents' house for dinner. When asked what kind of veggies I preferred, I told them that green beans are one of my favorites. I figured that was a safe answer…I mean, it's pretty hard to mess up green beans, right? I didn't know yet that his mom, Maria, is an amazing cook. Anyway, I'll never forget that as she was finishing throwing everything together, I watched in horror as she opened her spice cabinet, grabbed the nutmeg, and put a healthy portion into the green beans. …Nutmeg. In the green beans. What?!? Well, needless to say, it only took me one bight to realize that there was magic there. The beans were SO GOOD.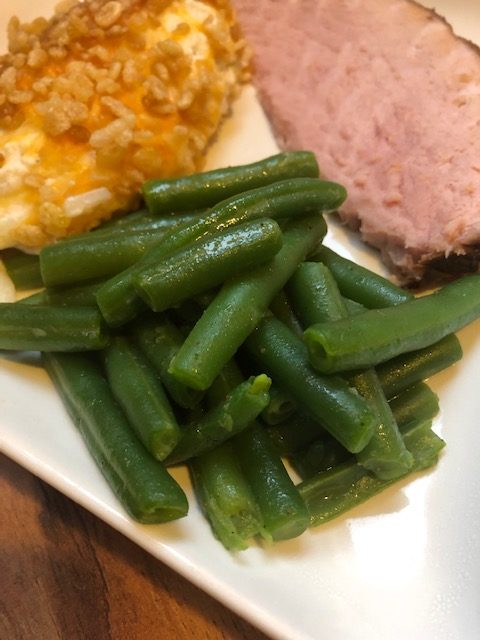 Of course I ended up asking her how she made them, and now I often make them the same way. I don't want to say that green beans are cooked this way by everyone who is from The Netherlands; even in my trips there I haven't had green beans, and haven't had any other Dutchies prepare them for me, so I honestly can't say if it is or not. But this is how Mama Maria makes them, and Maria is a master at her native Dutch dishes, so we're going to go with it.
When you make green beans this way, you'll want to use raw green beans instead of canned or frozen. I've tried them all ways, but the canned and frozen beans just don't taste as good when prepared this way, nor do they have the right texture. If all I have are canned green beans, then I just make them the way I grew up eating them (no hardship there!). Other than that little tidbit, these green beans are so simple and tasty that you might just become a little bit of a convert, too!
Start by blanching your trimmed green beans in salted, boiling water. Cook them until they are tender but still have some firmness to them, usually in the neighborhood of 15 minutes or so. Drain and place the green beans in a bowl filled with ice water to stop the cooking. This will help them retain some texture, and also help them stay vibrant green. A few minutes before serving them, drain the ice water, and put them back in the pan you blanched them in to heat them back through. Add about 1/2 a tablespoon of butter, salt, pepper, and nutmeg. Instead of the salt, I usually add some Verstegen brand Gehakt seasoning, which you can find here.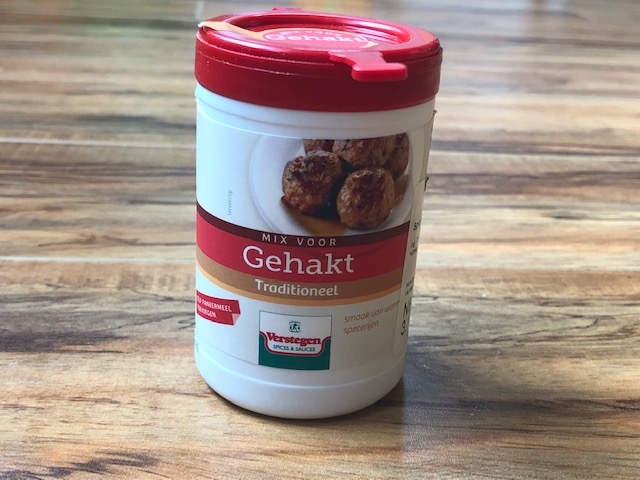 My husband finds this objectionable because it is technically a seasoning used for Dutch style meatballs, but I love the depth of flavor it gives the beans, and he only has an issue when he sees me do it. If he hasn't been in the kitchen when I'm cooking, he says my green beans taste just like his mom's. So there.
Anyway, that's it! Super easy! I hope you enjoy Mama Maria's Dutch Style Green Beans as much as we do!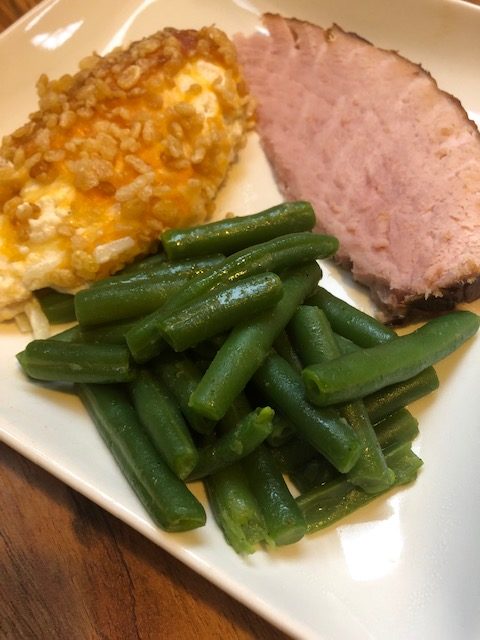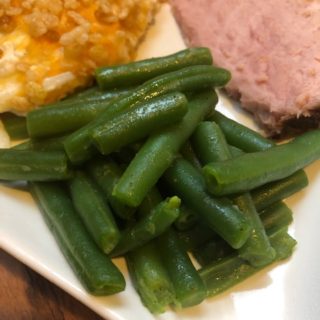 Mama Maria's Dutch Style Green Beans
Looking for little bit of a change in your green beans routine? Mama Maria's Dutch Style Green Beans are a deliciously easy way to eat your veggies!
Ingredients
1

lb

fresh green beans

4

cups

water

1

tbsp

salt

1/2

tbsp

butter

1

tsp

ground nutmeg

salt and pepper to taste

2

tsp

Verstegen brand Gehakt Seasoning

optional (see note)
Instructions
Blanch green beans in salted, boiling water until tender but still slightly firm, about 15 minutes.

Drain and add green beans to an ice bath.

When ready to serve, drain ice bath off of green beans, and add them back to a pan to heat them through on medium-low to medium heat. Add butter, nutmeg, and salt and pepper to taste OR Verstegen brand Gehakt seasoning.

Heat through, check for seasoning, and serve.
Notes
Note: If you use the Verstegen brand Gehakt seasoning, you do not need to add the salt called for in the third step. You can find the Gehakt seasoning here.