Looking for an easy weeknight meal that will have the whole family asking for seconds? Or maybe for a way to use up leftover ham (or turkey!) from the holidays? This Chicken Cordon Bleu Casserole is the winner!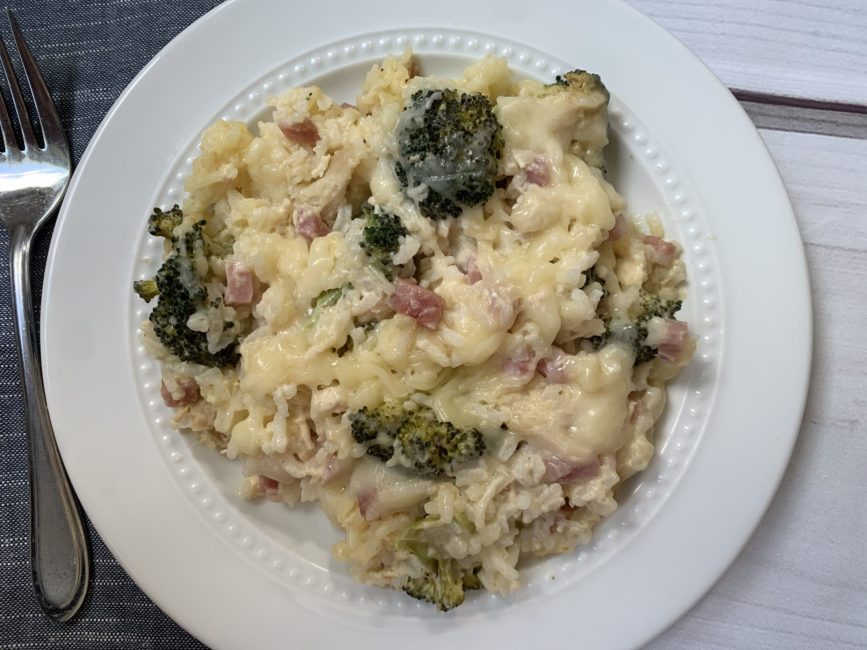 Chicken Cordon Bleu is a classic that involves chicken breast that is rolled around (or topped with) ham and swiss cheese, then breaded and fried or baked. And yes, it's delicious. Rich, a little salty, a little crunchy, and a little creamy…it hits so many high notes!
I have a little confession, though… I've never actually made chicken cordon bleu the traditional way. I mean, I've eaten it many times and know that I love the flavor profiles in it, but for whatever reason I've never actually cooked the stuff. Maybe I'll give it a try one day. Or, maybe I'll take the easy way out and make this Chicken Cordon Bleu Casserole instead!
Seriously, when I say easy, I'm not kidding. The hardest thing about this recipe is shredding the chicken. It's the perfect weeknight meal that even my toddlers gobble up. Oh, and speaking of gobble (see what I did there?), this recipe is the perfect way to use up leftover turkey or ham from the holidays! Just sub the turkey for the chicken, and/or dice the ham into small chunks!
You can also feel free to mix up the veggie game here. I like adding broccoli because my family loves it, the flavors compliment each other, and it lets me cook a complete meal without having to worry about making an extra side if I am not up for it (although I usually serve this with a side salad). If you're family isn't in to broccoli, use peas or whatever they prefer instead! Or, leave the veggie out of the casserole itself and cook something on the side. It's up to you!
How to Make Chicken Cordon Bleu with Broccoli Casserole:
Start off by cooking your instant rice according to the package directions. The typical method is to boil slightly salted water, add in the rice, cover, remove from the heat, and let it sit for 5 minutes. If you prefer a different type of rice, feel free to use it!
While the rice is doin its thing, mix together all of the other ingredients, reserving about half a cup of the shredded cheese. I generally add the broccoli in last and gently fold it in so that it doesn't all break apart. Once the rice to done, add it to the mixture (no need to cool). Pour the mixture into a greased 13×9 pan, top with the rest of the cheese, and bake at 350 degrees for 20-25 minutes until the cheese is melted and bubbling!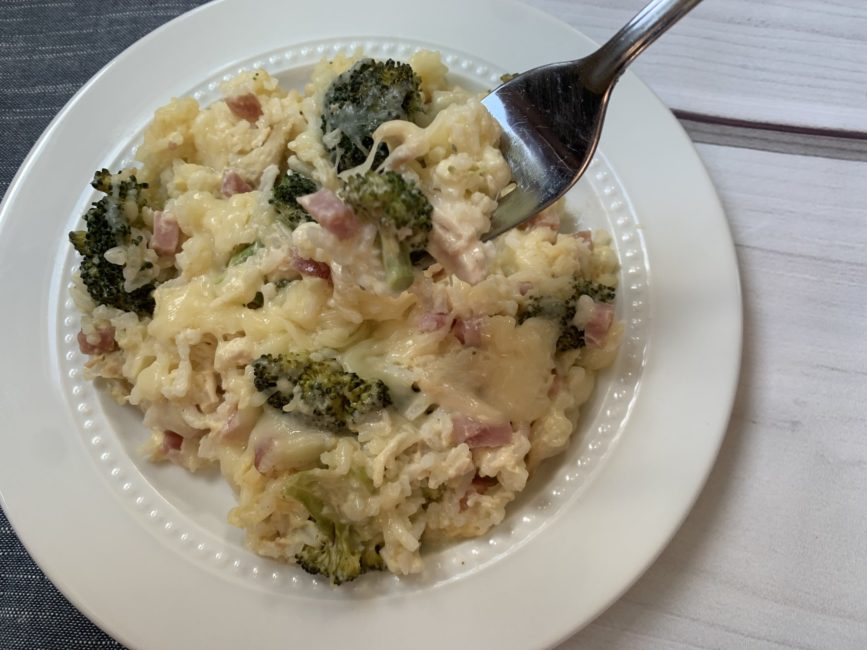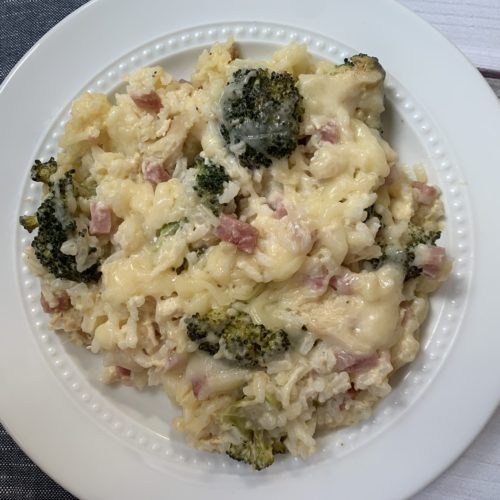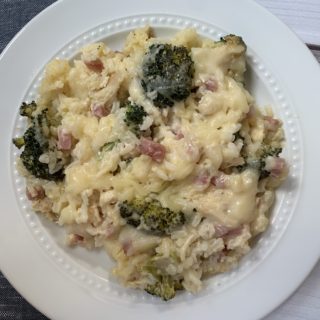 Chicken Cordon Bleu with Broccoli Casserole
This easy weeknight dinner has all of the classic Chicken Cordon Bleu flavors you love in casserole form!
Ingredients
2

Cups

Instant Rice (such as Minute Rice)

2

Cups

Water

1/2

Medium

Onion, Diced

1 1/2

Cups

Cooked Chicken, Shredded

1

Cup

Diced Ham (8 oz.)

1

Can

Cream of Chicken Soup (10.75 oz)

1

8 oz.

Container Sour Cream

1

tsp

Garlic Powder

1/2

Cup

Milk

1 1/2

Cups

Shredded Swiss or Mozzarella Cheese

2

Cups

Broccoli, Chopped

1

tsp

salt

1/2

tsp

pepper
Instructions
Preheat oven to 350 degrees. Grease a 9x13 inch pan. Set aside.

In a medium saucepan, boil 2 cups of water (add a little salt). Once water is boiling, add the rice, cover, and set aside for 5 minutes.

In a large bowl, combine the cream of chicken soup, sour cream, onion, garlic powder, chicken, ham, milk, 1 cup of cheese, rice, and broccoli. Pour into the greased pan and spread evenly. Top with the remaining 1/2 cup of cheese.

Bake for 20-25 minutes until the cheese is melted and bubbly.