Creamy mashed potatoes mix with the natural sweetness of pureed carrots in the classic Dutch dish called Hutspot, and it's pure comfort on a plate!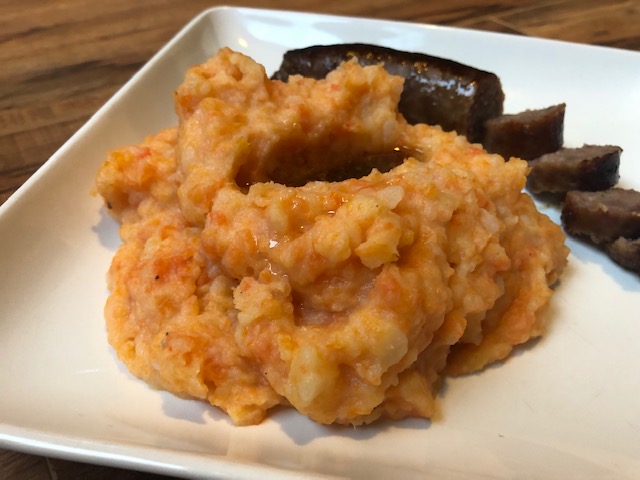 There are plenty of challenges that come with being married to someone that originally hails from a different country. The crazy thing is that it's often the little things that you don't even think about day-to-day that can trip you up. And that's not even considering the language barrier that can sometimes occur, even with someone that is completely fluent. Oy vey.
One thing that isn't challenging about loving someone from The Netherlands, though, is loving Dutch food. It's not a cuisine that you hear talked about unless you know someone who is Dutch. Sometimes it even gets mixed up with German fare (such as in the case of Pennsylvania Dutch, which is actually German). But my goodness do the Dutch know how to eat! A lot of Dutch food falls into the comfort food, or meat and potatoes, category. Hutspot definitely fits that bill…it's one of those deliciously filling meals that is best enjoyed on a cold winter's day. But who am I kidding? I could eat the stuff all year long!
There's an entire class of dishes in Dutch cuisine known as stamppot (literally translated to "mash pot"). Stamppot is essentially mashed potatoes combined with a little onion and some sort of pureed vegetable or the other. There's boerenkool stamppot, which is made with kale, zuurkool stamppot, made with sauerkraut, one made with a bitter lettuce such as endive or romaine, and even a very regional version called "blote billetjes in het grass" (bare buttocks in the grass!) which is made with a variety of beans. Really you can take just about any leafy green or root vegetable and make a stamppot out of it. Then there's my personal favorite, Hutspot, which is carrots and potatoes. YUM.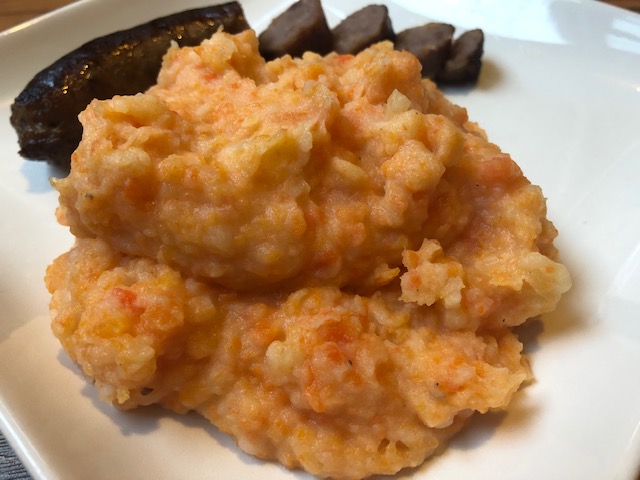 Stamppot is generally served with either sausages (the type depends on the type of stamppot), Dutch meatballs, or hachee (a slow cooked kind of roast beef stew..kind of), along with the juice/braising liquid from that meat. Some folks serve them with bacon (in our house, boerenkool is always served with bacon and mayonnaise), gherkins, and/or pickled pearl onions. We always do hutspot with brats (specifically beer brats) and some sort of green vegetable (try these Dutch Style Green Beans!).
Hutspot is really very easy to make once you get the hang of it. I use this method to figure amounts: I do one potato per person I'm serving, plus one. So if I'm cooking for 4 people, I use 5 good sized potatoes, and one carrot per potato. Start by cooking some chopped carrots and a little onion in some chicken broth. You want the the carrots chopped small enough that they'll puree or mash easily.
While that's going, start your mashed potatoes using whatever method you prefer to make them by. I start my cubed potatoes in cold water with some salt, pepper, and butter. Pro-tip: once you have the potatoes covered with the water, rim the pan with butter just above the water line. It'll keep your pot from boiling over. Trust me..it works like a charm! I bring them to a boil and let them cook until they are completely tender when poked with a knife. Then I drain them, reserving some of the cooking liquid. I add just a bit of the cooking liquid back into the pot (not much…a few tablespoons?) and give them a smoosh with my electric mixer turned off. Then I turn it on and add a little warmed milk/half and half mixture at a time until I have a smooth, creamy consistency. Then I add about a tablespoon of butter and season to taste with salt and pepper.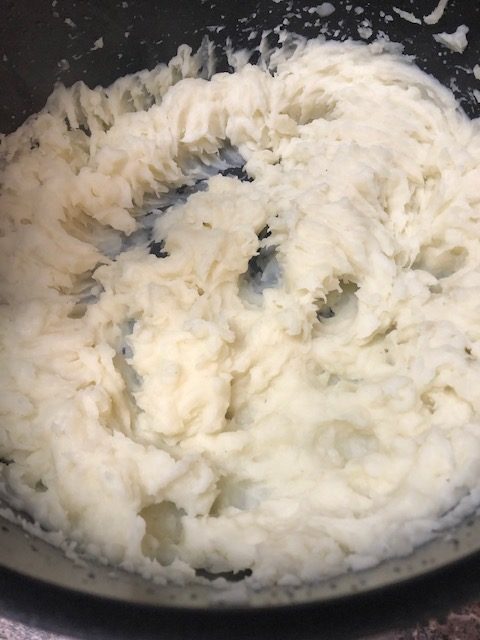 Once your carrots are tender, drain them and give them a smoosh (the technical term, of course) until mashed to your desired consistency. I like a few small chunks. You could even do this in the food processor if you want them completely smooth, but let's face it I'm WAY to lazy to do that many dishes. I just use my handy dandy old fashioned hand masher.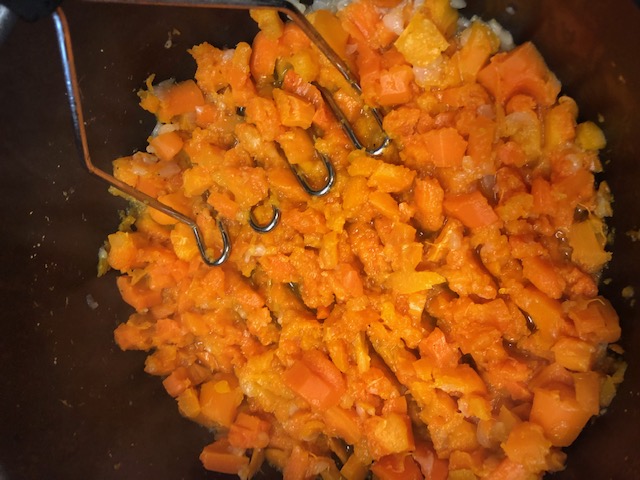 Dump the carrot puree in with the mashed potatoes and give them a enough of a mix to make sure everything is combined. Check for seasoning.
To serve: put a nice pile of hutspot on your plate, then with the spoon create a little well in the middle of the pile. Take some of the cooking liquid from the sausages and put it in that well, then serve with a side of sausages and whatever else you want on the plate. Oh, and if you want to go really Dutch, you should probably have some applesauce on the table, too. Enjoy!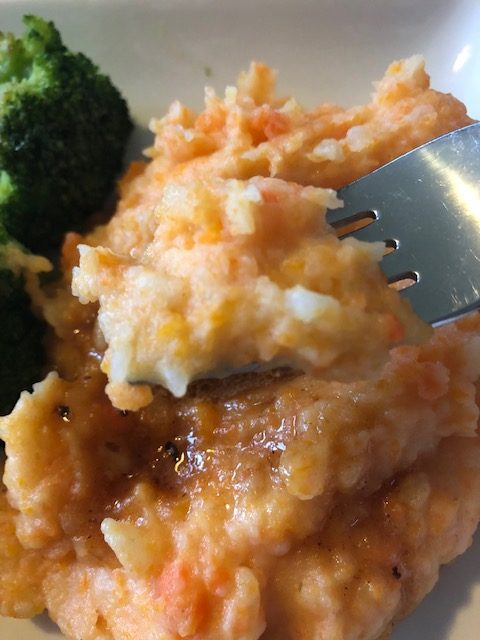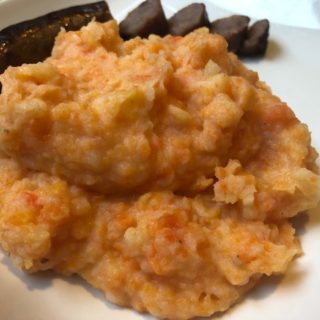 Hutspot - Dutch Mashed Potatoes with Carrots
Creamy mashed potatoes combine with naturally sweet carrot puree in this classic Dutch dish!
Ingredients
5

finely chopped carrots

5

medium potatoes

3

tbsp

diced onions

2

cups

chicken broth

2

tbsp

butter

divided

1/2

cup

half-and-half

1/2

cup

whole milk

salt and pepper to taste
Instructions
In a small sauce pan, combine the carrots, onion, and enough chicken broth to cover. Bring to a boil and cook until very tender. Drain.

Prepare the mashed potatoes. Place chopped, peeled potatoes and cover with cold water. Add salt, pepper, and about a tablespoon of butter. Bring to a boil and cook until very tender but not falling apart, about 20 minutes.

Combine the milk and half-and-half in a coffee mug and heat in the microwave for about 1 minute, until just warmed through.

When the potatoes are tender, drain but reserve a little of the cooking liquid. Add about 3 tablespoons of the cooking liquid back into the potatoes, and mash by hand at first. Once the biggest chunks are broken down, turn on the the electric mixer and add the milk/half-and-half mixture until the desired consistency is reached. Note: you will not use all of the milk mixture.

Add a tablespoon of butter and salt and pepper to taste to the potatoes. Mix well.

Mash the cooked carrots by hand until mostly smooth. Add the carrots into the potatoes and mix well, adding more of the milk liquid if needed. Taste to check for seasoning.