Did your garden produce lots of zucchini and you're not sure what to do with it? Try this easy, zesty Zucchini and Beef Taco Skillet for dinner tonight!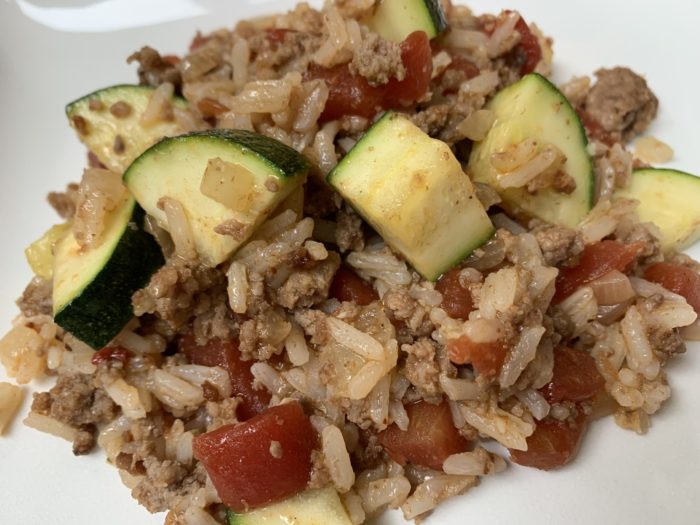 Ya'll. I'm so excited. After a couple of years of trying, I finally talked JW into building me some raised garden beds this year! We are only starting out with two because my thumb has never exactly been green, and by the time harvest rolls around I'll be VERY pregnant (like over 8 months pregnant), but I've got enough room to plant tomatoes, cucumbers, green beans, and…zucchini. I've grown everything else to varying degrees of success before, but this is my first go-round with zucchini. And, well, I've already made a rookie mistake.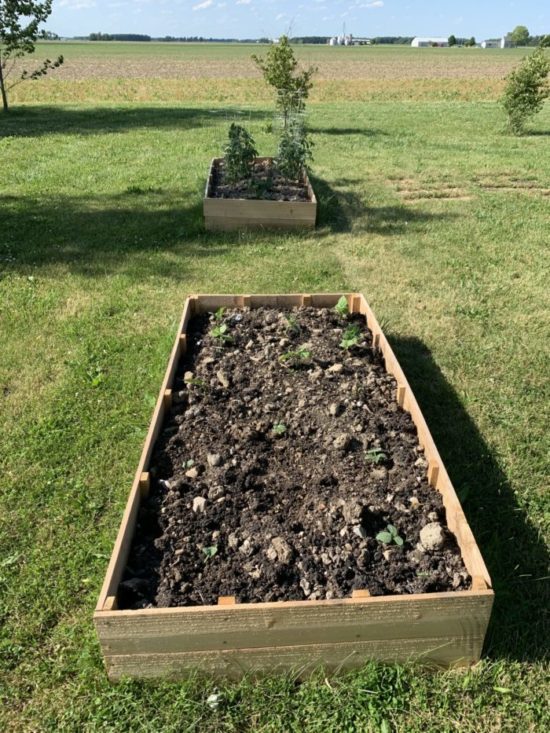 You see, I knew in the back of my head that zucchini plants tend to get huge and produce a lot, but for whatever reason when we were at our local greenhouse buying our starter plants, I convinced myself I needed four. Yeah. Not sure what I was thinking there. Thankfully, soon thereafter my dear friend-who is an awesome gardener and plants a massive plot every year-gave me a heads up about my mistake. I was able to give two of my little baby zucchini plants to my mother-in-law, and shift the other two around so they'll (hopefully) have plenty of room to do their thing.
All of this to say that, if all goes well, we are going to have tons of zucchini this year. I'm not complaining, trust me! I've come to love the stuff in my adult years, and I can sneak it in to bread and muffins to get my toddler to eat it. Speaking of, this means I'll be testing lots of zucchini bread recipes (YAY!). I'll be sure and post the winner!
Zucchini is great because you can really do so much with it! One way I love to use it is in this easy Zucchini and Beef Taco Skillet. It's mild flavor goes fantastically with Mexican-inspired flavors, and by adding the ground beef and rice, you've got a super tasty meal in one! If you wanted to go low-carb, you could easily leave the rice out. As for serving suggestions, we usually just pile a bunch in a plate or on a bowl, and JW will eat it with some tortilla chips. I usually add a little bit of shredded cheese. You could also serve it taco style in either flour or corn tortillas. It's up to you!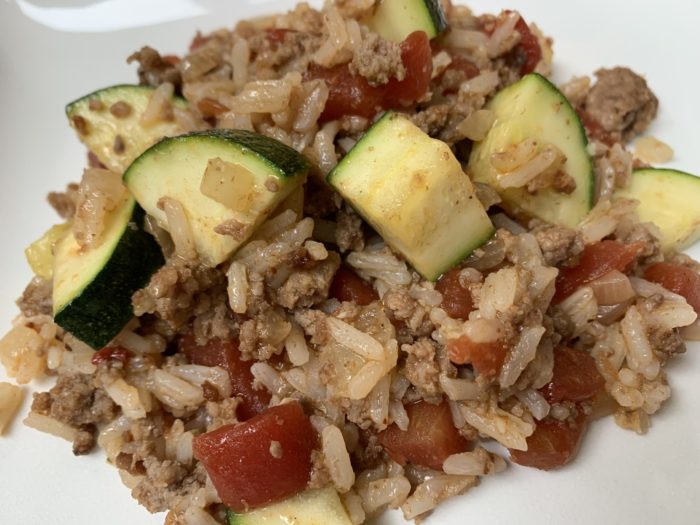 Brown a pound of ground beef along with some diced onion and minced garlic. As per usual when I make anything with ground beef, I sprinkled a little Lowry's Seasoned Salt and garlic salt on top. Meanwhile, cook your rice according to the package directions. I prefer brown rice in this as it's a little more hearty, but use whatever rice you've got on hand (for instance–when I took the pictures for this post, I was out of brown rice and just used jasmine rice instead). Once the meat has browned and the onions turned translucent, add a can of Ro-Tel diced tomatoes and green chilis, along with the juices from the can. I use the mild version, but if you like heat go for the hot. Stir in your spices at the same time. Cook this for just a couple of minutes, then add in the chopped zucchini and the chicken broth. Important: do this at right before you add the rice, or you'll have mushy zucchini! Next, stir in the cooked rice. Taste to check for seasoning, and add a little salt if needed. Dish it up and enjoy!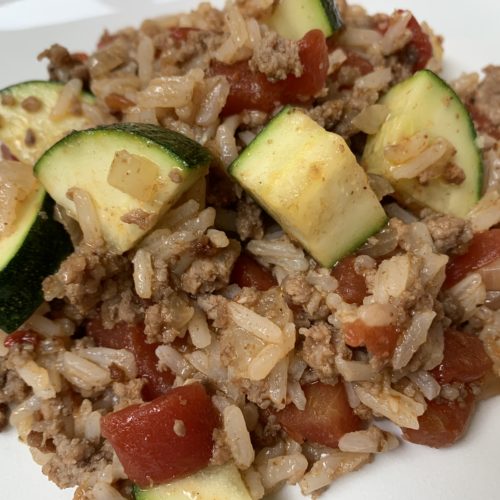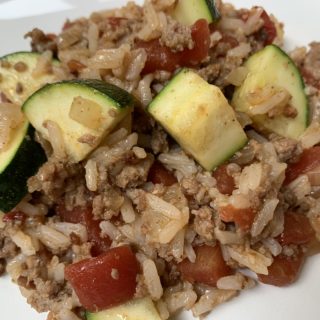 Zucchini and Beef Taco Skillet
This this easy, zesty Zucchini and Beef Taco Skillet is a perfect meal-in-one!
Ingredients
1

lb

Ground Beef

1

Large Zucchini, chopped

2

Cloves

Minced Garlic

1

Medium Onion, Diced

1

10 oz

Can Ro-Tel Diced Tomatoes and Green Chilis

1/2

tsp

Chili Powder

2

tsp

Ground Cumin

1

tsp

Garlic Powder

1

tsp

Onion Powder

1

tsp

Salt

Garlic Salt and Seasoned Salt

4

Servings Brown Rice, Cooked

1/4

cup

Chicken Broth
Instructions
Brown the ground beef along with the garlic and onion in a large skillet. Season with garlic salt and seasoned salt.

Cook the rice according to the package directions.

Once the meat has browned and the onions are slightly translucent, add the diced tomatoes and green chilis (with the juices from the can), as well as the spices. Let cook for about 3 minutes.

When the rice is very close to being cooked, add the zucchini and chicken broth to the skillet. Stir and let simmer for just a short time, being sure not to over cook the zucchini.

As soon as the rice is finished cooking, add it to the skillet. Stir to combine and taste to check seasonings.
Notes
If you are on a low-carb diet, simply leave out the rice.