A little bit sweet, a little bit savory, a little bit tangy, and a little bit spicy! This flavorful, easy Cranberry Salsa is the perfect snack to get your taste buds ready to celebrate the holidays!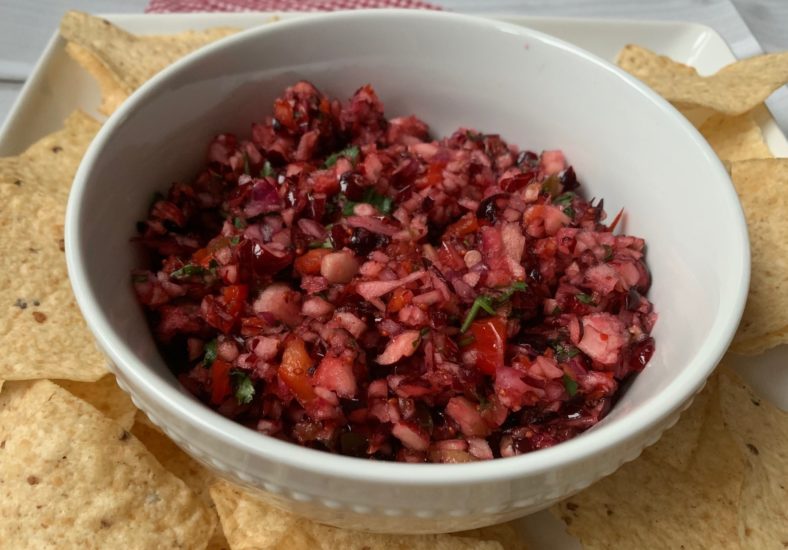 I don't know about you, but I really love pot-luck/pitch-in type dinners. Usually a pot-luck means a big group of people that you don't get to see all that often getting together to celebrate something and EATING! And not just eating the same old thing you always eat, but eating all kinds of goodies you never get to or think to make at home for yourself. It's also the time I get to make my favorite Hash Brown Casserole, but that's another post for another day.
A potluck is where I learned about this amazing Cranberry Salsa. My good friend brought it to a Christmas party, and to be honest I wasn't sure about it at first…mostly because I'm not a huge fan of cranberries. But, anytime I'm at a pitch-in, I make sure to try a little bit of everything thing and man am I glad I did! This stuff delicious!
It also makes a great idea for a homemade gift. It's beautiful bright red and green colors are perfect for the season…just put it in a jar, tie the jar off with ribbon, and gift away!
It's really easy to make, too! Just dust off the old food processor, and dump in whole cranberries (fresh or frozen), red bell pepper and red onion that's been cut into chunks, and a granny smith apple that's been peeled, cored, and chunked. Pulse all of this until it's very finely chopped, and dump it into a bowl. Mix in the sugar, apple juice, lime zest, cilantro, and chopped jalapenos. You can add more jalapenos if you're into spicy, but I don't like a ton of heat myself. Pop the lid on the bowl and chill until you're ready to serve (at least 30 minutes, but it gets better the longer it sits). Serve it with some good, salty tortilla chips…and try not to eat the whole bowl in one sitting.
This post is sponsored by The Glass Barn, but all thoughts and opinions are my own, ya dig?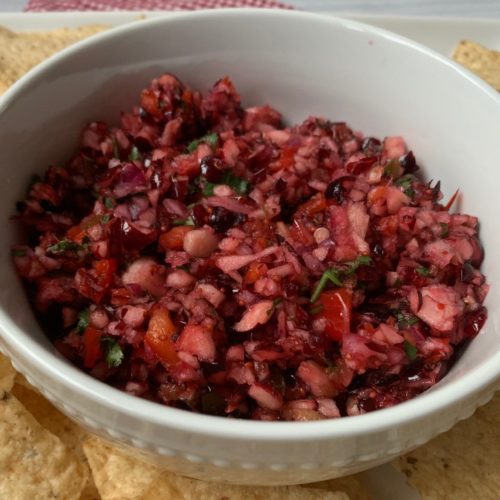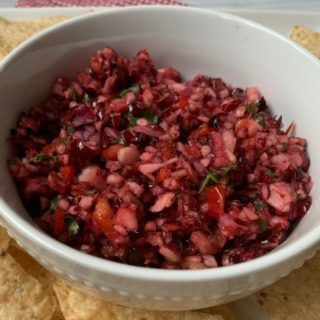 Cranberry Salsa
A flavor bomb of sweet, savory, tangy, and spicy, this cranberry is the perfect snack for the holidays!
Ingredients
1

12 oz. Bag

Fresh or Frozen Cranberries

1

Granny Smith Apple, peeled, cored, and cut

1/2

Large Red Bell Pepper, roughly chopped

1/2

Medium Red Onion, roughly chopped

3/4

Cup

Sugar

1/3

Cup

Apple Juice

3

Tbsp

Chopped Cilantro

2

Tbsp

Pickled Jalapenos, Chopped

1

tsp

Lime Zest
Instructions
In a food processor, combine cranberries, apple, red bell pepper, and onion and pulse until finely chopped. Transfer to a bowl that can be covered.

Add the sugar, apple juice, cilantro, jalapenos, and lime zest. Stir to combine.

Cover and refrigerate for at least 30 minutes to overnight so the flavors can combine. Serve with tortilla chips.