Dutch Split Pea Soup, called either Erwtensoep or Snert, is the perfect hearty and healthy meal to warm you up this winter!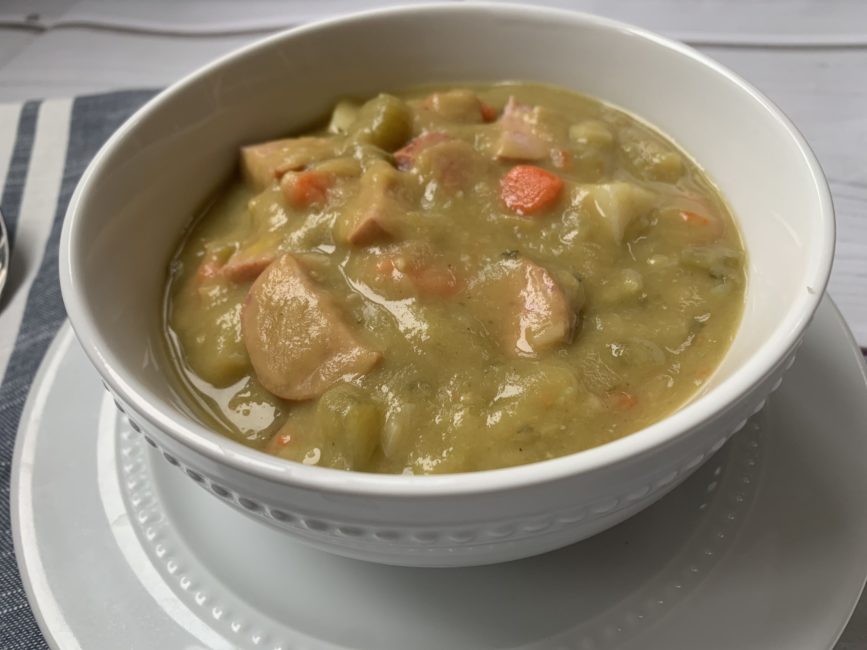 To say that I'm not a huge fan of winter is a big time understatement. We all know what hangry is, but is there a word to describe a similar anger caused by being cold? Because that word would perfectly describe how I get. I really, really despise being cold.
I once read somewhere that if you really love winter, chances are you didn't grow up with livestock. There's just something about having to break the ice on waterers, carrying water because water lines are frozen, going out and feeding/milking/delivering babies when the temperatures dip that just takes the fun out the cold. Blech.
Ok, sure, snow is pretty and I love watching my littles enjoy playing in it. And there's nothing quite like a white Christmas with a fire going in the fire place. But that's it. Once Christmas is over and the decorations come down, the weather could warm back up to the mid 70s and I would be just fine thank you very much!
There is one good thing about cold weather, though…it's the perfect time to make a nice, hearty bowl of soup to warm yourself from the inside out. Dutch Split Pea Soup, or Erwtensoep (or Snert), is 100% the perfect stick to your ribs type of food to keep you going when those winter winds start to blow!
The Dutch are known for their hearty fare, and this soup is the king of all of it. It's said that if your snert is as thick as it is supposed to be, you can stand a wooden spoon up in the middle of the pot. I kid you not. Plus, it's loaded with veggies and super healthy. Win win!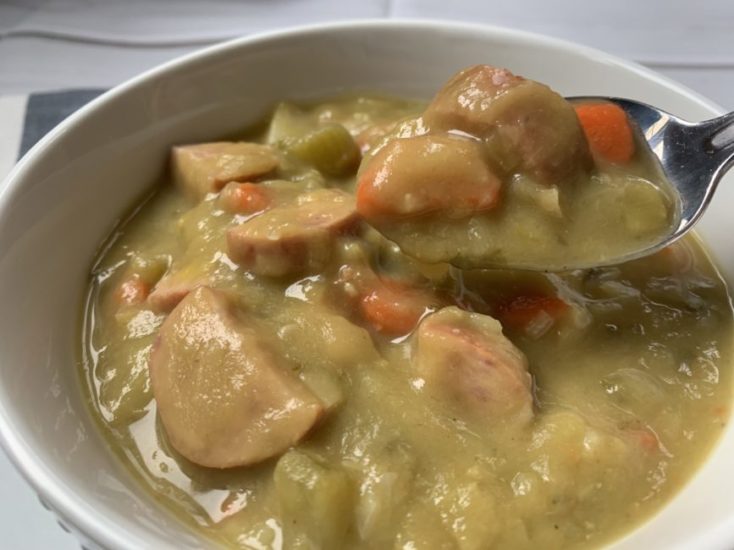 My recipe comes straight from my mother-in-law, Maria…also known as the quintessential Dutch home cook. Oh, and something important to note: this soup is definitely better if you eat it the next day. Yes, you can eat it the same day, but I totally recommend planning ahead a little and waiting until the next day to eat it. It also freezes really well!
How to make Dutch Split Pea Soup:
Take about half a pound (200 grams) of split green peas and rinse them very, very well until the water runs clear (Maria says she rinses them 5 times). Put those in a heavy bottomed pot such as a Dutch oven, and pour in 1 Liter (4 1/2 cups) of water. Bring to a boil, cover, turn down the heat to medium low, and cook for an hour. You'll want to keep an eye on them because these bad boys like to boil over.
Once an hour has passed, add peeled and chopped carrots and celery, a diced onion, leeks, a couple of diced potatoes, 2 vegetable bullion cubes (you can use chicken bullion if you can't find the vegetable as it can be pretty hard to find), some parsley, and some pepper. Cook all of this for about 20 minutes or so, or until all of the veggies are tender. After the veggies have cooked, stir in some chopped smoked or kielbasa sausage.
If you are eating it right away, serve it up with some nice warm bread smothered in butter. If you are eating it the next day or freezing it, let it cool before putting it away.
Eet smakelijk!
Looking for other delicious Dutch foods? Give one of these a try!:
Pannekoeken – Dutch Pancakes
Hutspot – Dutch Mashed Potatoes with Carrots
Mama Maria's Dutch Style Green Beans
This post is sponsored by The Glass Barn, Indiana Corn and Soybean Growers, but all thoughts and opinions are my own.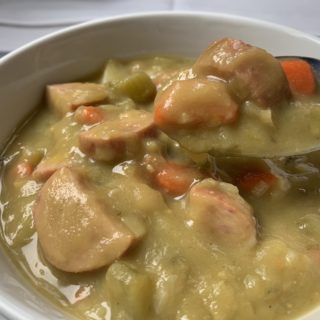 Erwtensoep - Dutch Split Pea Soup
Dutch Split Pea Soup, called either Erwtensoep or Snert, is the perfect hearty and healthy meal to warm you up this winter!
Ingredients
1/2

lb

Split Greet Peas

200 grams

4 1/2

c

Water

1 Liter

4

Carrots, Peeled and Chopped

4

Celery Stalks, Peeled and Chopped

1

Onion, Diced

2

Leeks, Diced

2

Potatoes, Peeled and Diced

2

Vegetable Bullion Cubes

or Chicken

1

Package

Smoked or Kielbasa Sausage

2

Tbsp

Parsley, Diced

Salt and Pepper, to taste
Instructions
In a strainer, rinse the split peas very well, until the water runs clear.

Add the split peas to a large, heavy bottomed pot. Stir in the water. Bring to a boil, cover, turn down the heat to medium-low, and simmer for 1 hour.

Uncover and stir in the carrots, celery, onion, leeks, potatoes, parsley, and vegetable bullion cubes. Cook for about 20 minutes, until the vegetables are tender.

Cook and refrigerate over night. Reheat and check for seasoning, adding salt and pepper if necessary. Serve with warm buttered bread.
Notes
This soup also freezes extremely well! Simply defrost and heat through when you are ready to eat it!