Looking for an easy lunch idea that has plenty of protein and is loaded with melty, cheesy goodness? Try these Ham, Cheese, and Egg Sandwiches with Mustard Secret Sauce!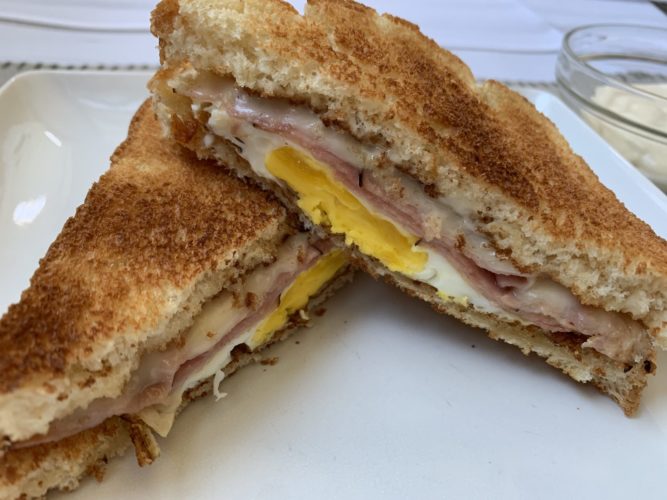 Ok, I know ya'll looked at this recipe's title and thought, "Why in the world do I need a recipe for something as simple as a ham, egg, and cheese sandwich?" I get it. I do. Chances are you DON'T need a recipe to figure out how to put a couple of slices of toasted bread, ham, cheese, and an egg together. But, my friends, the secret is in the sauce!
(Right about now, my bad sense of humor *thanks Dad* is encouraging me to make a stupid joke about the sauce being secret, and how you shouldn't tell anyone…but I'm resisting the impulse. Go me!)
This was another one of the recipes born of necessity when my farmer called me up late one morning asking if I had anything I could bring him for lunch. I'm thinking you're sensing a pattern here, and you'd be right. This happens a lot in our household, mostly because he doesn't often know what he's going to be doing day-to-day, so planning ahead isn't always possible.
On the particular day that this sandwich was born, we had been to some sort of function just a few days earlier where someone had made those amazing baked ham and cheese sliders. You know the ones I'm talking about, right? The ones that are on the Hawaiian Bread Rolls, with a yummy mustard-mayonnaise sauce, slathered in butter, and baked? (My friend Leah has a version here!) The sauce on those little sliders is so good, and easy, that figured I could add it to a ham, egg, and cheese sandwich and have it taste just as good!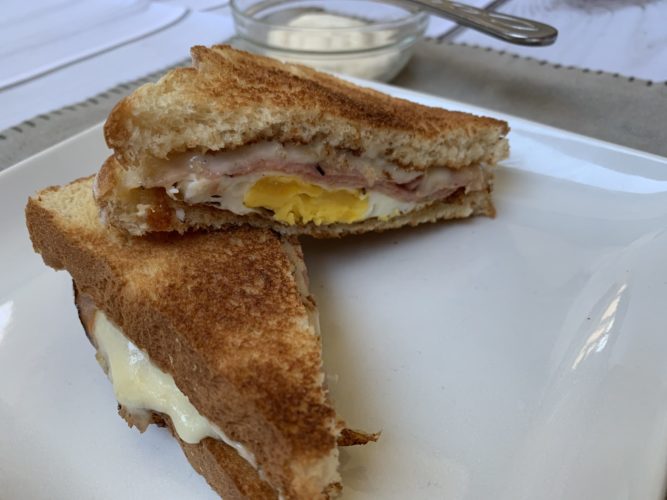 So simple. Cook enough eggs for the number of sandwiches you are wanting to make (1 per sandwich). Just put a little butter in a non-stick skillet and break an egg into it. Season with some salt and pepper. I like my eggs over easy, JW prefers his over medium/hard (so yolks totally set–which makes them much easier to eat one handed in the tractor). Give them a flip and cook until your desired done-ness.
While the eggs are going, put some bread in the toaster…whatever sandwich break you prefer. I like to use honey wheat for these because I think it stands up to the sauce a little better, but use what you like.
In a small bowl, mix together some mayo, Miracle Whip, and honey Dijon mustard. I use a ratio of 2-2-1 here (so 2 tbsp mayo, 2 tbsp Miracle Whip, and 1 tbsp mustard).
When the eggs are nearly done, put a slice of ham per sandwich in the skillet to warm it through. Put each of those slices of ham on top of an egg, then put a slice of Muenster cheese on top of that, allowing everything to warm and the cheese to start melting.
When the bread is toasted and the eggs are done, smother at least one side of bread with the sauce, and put your egg/ham/cheese stack on the bottom slice. Close your sandwich and slice, then enjoy!
Note: if you are taking these on the go, such as running them to the field, I would recommend wrapping them in foil to keep them warm, but leaving a little crack open so some steam can escape, otherwise they may get a little soggy. I'd also suggest eating them as close to making them as possible.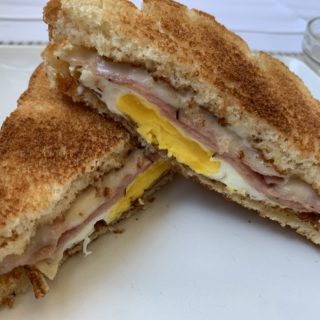 Ham, Egg, and Cheese Sandwich with Secret Sauce
Looking for an easy lunch idea that has plenty of protein and is loaded with melty, cheesy goodness? Try these Ham, Cheese, and Egg Sandwiches with Mustard Secret Sauce!
Ingredients
8

Slices of Bread (White, Wheat, etc.)

4

Eggs

8

Slices of Ham

4

Slices of Cheese (Muenster, Gouda, etc.)

2

Tbsp

Mayonnaise

2

Tbsp

Miracle Whip

1

Tbsp

Honey Dijon Mustard

Butter for Cooking Eggs
Instructions
Mix together the mayonnaise, Miracle Whip, and Mustard. Set aside.

In a non-stick skillet, melt the butter and fry the eggs to your desired doneness, leaving room in the pan to heat the ham. When you flip the eggs, put the ham in the pan to warm through.

Place the ham on top of the eggs (1-2 slices per egg), then place a slice of cheese on top of each egg.

Toast the bread, then place the egg, ham, and cheese stack on one slice. Spread the mustard sauce on the other slice. Close sandwich and enjoy!
Notes
This sandwich is best eaten right away, but if you are taking it somewhere, wrap it in foil leaving a little crack for steam to escape.