When the gardens and farmers markets are full of delicious vegetables, it's time celebrate the fresh flavors of late summer with this easy and healthy Summer Vegetable Angel Hair with Lemon and Basil!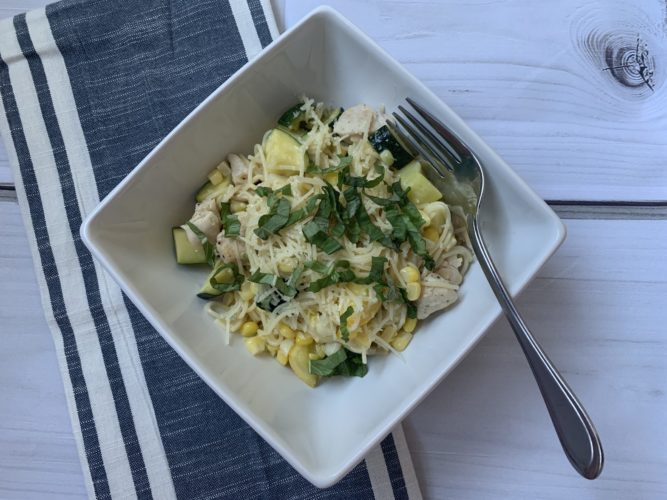 Ah, summertime, how I love you. Well…most years anyway. This year has been a little rough because, thanks to pregnancy number two, it's like I've got my own little built in furnace happening. But most years, summer is one of my absolute favorite times of year, second only to spring. Bring on that sunshine!
Cookouts, lake/pool life, refreshing summer cocktails and cold beer (well, not this year, but usually), cow shows and county fairs, longer days, and of course delicious fresh veggies from the garden! I was able to get a garden in for the first time in a couple of years, and we've been in veggie heaven all summer long!
I love taking advantage of what's in season when cooking dinner. It just seems like everything tastes better that way. So, this time of year (late summer) is my favorite time to make this Summer Vegetable Angel Hair. It uses all of the wonderful things coming from the garden right now (zucchini, yellow squash, sweet corn, and tomatoes if you want them), and brightens it all up with some lemon and basil.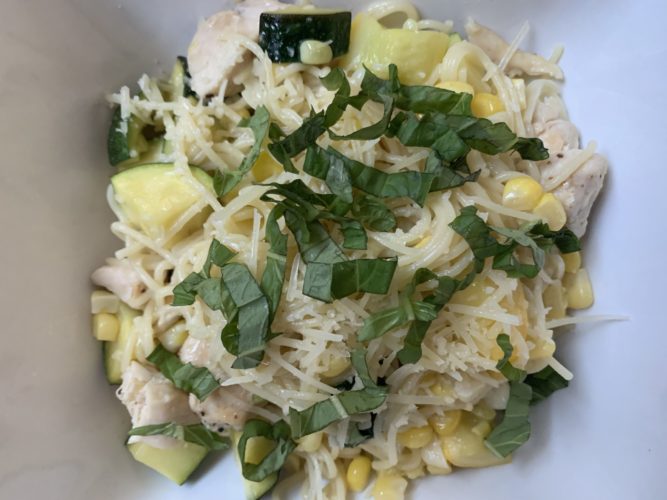 The inspiration for this particular recipe comes from one of my all-time favorite bloggers and cooks, The Pioneer Woman. Seriously, ya'll, her food is amazing and perfect for manly, simple eaters and more adventurous types alike. Her Summer Stir Fry is made with a lot of the ingredients I mentioned above, but she uses shrimp and her recipe doesn't have a starch built in. JW doesn't care for shrimp, so I subbed chicken, and as we all know I'm pasta obsessed so I decided to toss everything with angel hair. A couple other tweaks here and there and we've got this super tasty, healthy, and easy dish!
Oh, and if you're of the vegetarian persuasion, it'd be really easy to make this dish vegetarian! Just leave out the chicken and sub vegetable stock for the chicken broth. Don't you just love versatile recipes?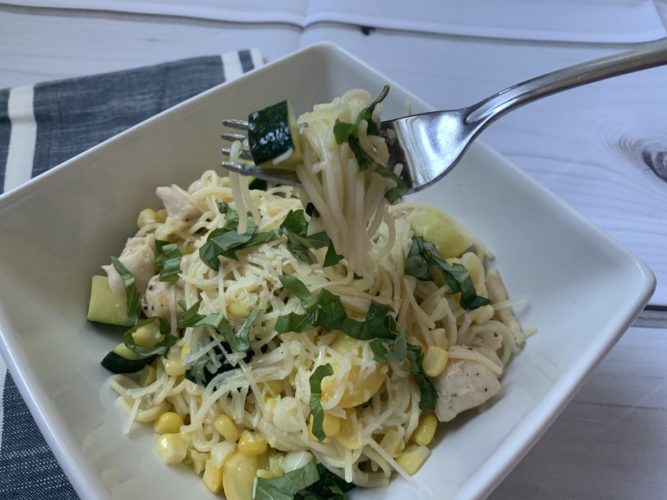 How to Make Summer Vegetable Angel Hair:
I like to start out by getting everything, or as much of everything as possible, sliced and diced because once you start cooking, things move pretty quickly. So, get your pasta pot on the stove with plenty of water and salt and get it boiling. Then, dice the chicken and set aside. On a different cutting board with a clean knife, chop up the zucchini and squash, as well as any other veggies you want to add (I like to do some diced asparagus if I can find some that looks good. You might also like tomatoes, but JW doesn't so I leave those out).
At this point you can heat some olive oil and butter in a large skillet, and start to brown the chicken. Season it with plenty of salt and a little Lowry's Lemon Pepper if you've got it. The goal here is just to get some color on the chicken; it's ok if it isn't completely cooked through. While the chicken is browning, slice the kernels off of the ears of corn and mince the garlic.
Pro Tip: for a mess free way to slice corn kernels off of ears, take a large bowl or cake pan, and place a smaller bowl upside down in it. Placing the flat end of the corn on the smaller bowl, run your knife down the ear. Once the kernels are off of the ear, I also like to run my knife up the ear the opposite way to get some of the juices.
Once the chicken has browned, use a slotted spoon to remove it from the skillet and set it aside. Add the zucchini, squash, and then the garlic to the hot skillet. Stir around for a second, then add in the corn. If you're using asparagus or tomatoes, add those as well. Cook for another few seconds (not too long!) then add the chicken broth. Scrape the bottom of the pan to get up any browned bits, and add the chicken back in. Squeeze in the lemon juice and add some of the basil.
When the pasta is ready, add it along with a little of the pasta water to the skillet, and toss with the veggies and chicken. Pull it off of the heat and add a little of the parmigiana and a little salt. Taste for seasoning, adding more salt or lemon juice as needed. To serve, put it in bowls and top with a little more basil and parm.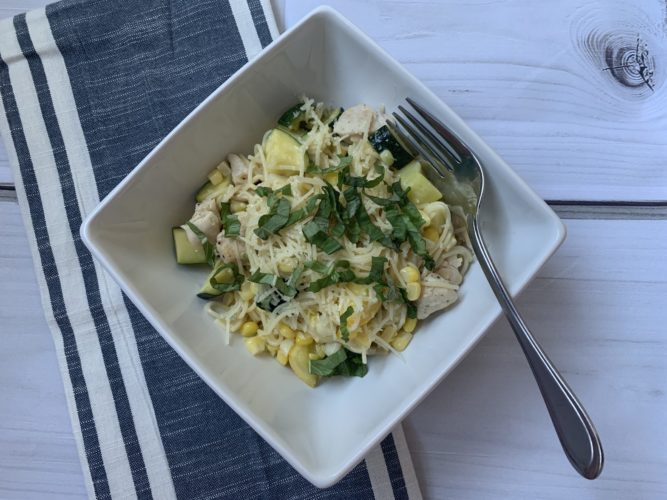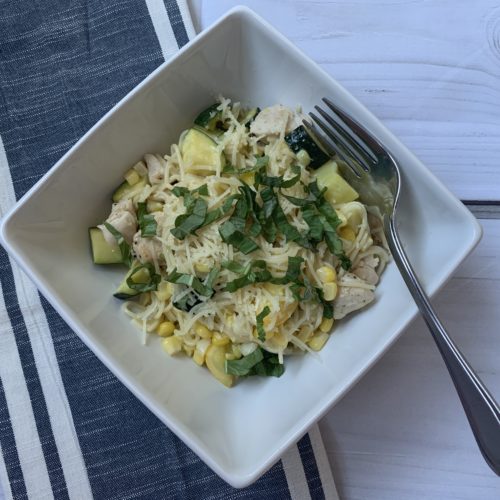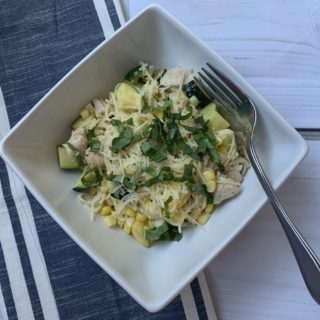 Summer Vegetable Angle Hair
When the gardens and farmers markets are full of delicious vegetables, it's time celebrate the fresh flavors of late summer with this easy and healthy Summer Vegetable Angel Hair Pasta!
Ingredients
1/2

lb

Angel Hair Pasta

1

lb

Chicken, Diced

1

Zucchini, Cubed

1

Yellow Squash, Cubed

2

Ears

Sweet Corn

2

Cloves

Garlic, Minced

1/3

Cup

Chicken Stock

2

Tbsp

Lemon Juice (approx.)

Fresh Basil

2

Tbsp

Olive Oil

2

Tbsp

Butter

1/2

Cup

Shredded Parmigian Cheese

Salt, Pepper to Taste
Instructions
Cook the pasta according to the package directions, making sure to liberally salt the water.

In a large skillet, brown the diced chicken, seasoning with salt and pepper. Once the chicken is browned, remove to a bowl with a slotted spoon and set aside.

In the same skillet, sautee the squash, zucchini, and minced garlic for about 30 seconds. Add the corn and sautee for another 30 seconds or so.

Add the chicken broth to the skillet, making sure to scrape the bottom to get up any brown bits. Add the diced chicken back to the skillet, as well as the lemon juice and some salt.

When the pasta is al dente (cooked but still slightly firm), add to the skillet along with about 1/2 Cup of reserved pasta water. Toss to combine everything.

Remove from the heat. Add 1/4 cup parmigian cheese and some chopped basil. Toss and taste for seasoning. Add more salt, cheese, lemon juice, or basil as needed.
Notes
You can add other veggies if you would like. I like asparagus. Tomatoes are also good.
This could easily be a vegetarian dish; just leave out the chicken and substitute vegetable stock for the chicken broth.