With businesses opening back up, schools being back in session, and harvest season starting, busy is about to be the name of the game again. When life gets crazy, keep dinner easy and tasty with this Slow Cooker No Bean Taco Chili!
Well, friends, harvest season in Northeastern Indiana has officially begun. JW is spending long hours working in the fields and in the semi, while I'm holding down the fort at home as well as I can. Oh, and in case you missed it, VandeLittle the Second decided to enter the world a few weeks before we were expecting him. So in other words…life just got all kinds of cray cray.
Spring planting and fall harvest are generally the busiest time of year on the farm. There is a window of time that farmers have to get crops planted and harvested. Though modern technology allows us to cover much more ground in much less time, planters and combines can still only cover so many acres in a day. The push to get all of those acres taken care of means that meals with the family around the table just aren't on the agenda, so a lot of meals end up being eaten in the field.
Even during a normal year (you know, a year when we aren't throwing a new baby into the mix), freezer meals, slow cookers, and my Instant Pot are my best friends when harvest rolls around. Freezer meals and the Instant Pot are great because I don't always get a lot of notice when JW needs me to bring food. He works for an amazing family that feeds the entire crew a few nights a week, but there are always some meals that he's on his own for. On those days I need something that is basically already ready to go or has a short cook time. The slow cooker is my BFF on those days when I know ahead of time what's happening, but also know that I'm going to want something to be ready without much fuss when dinner time rolls around.
This Slow Cooker No Bean Taco Chili is the perfect meal for when life decides to go off the rails. It can be made in the crock pot, on the stove, in the Instant Pot, and even freezes really well. In fact, I almost always freeze the leftovers any time I make a batch. Then all I have to do is pull it out of the freezer, put it in the crock pot for a few hours, and dinner is ready when we are ready for it!
If you're making this Taco Chili in the slow cooker, you'll want to brown your hamburger first. I also like to go ahead and put my onions and cumin in with the hamburger while it's browning. Then all that's left to do is dump all of the ingredients in your crock pot, and cook it all on low for 5 hours or high for 3. Serve with your favorite chili fixings. I love Fritos or tortilla chips, lots of shredded cheese, sour cream, and a little diced onion.
Another great idea would be to use your Instant Pot so you're not getting an extra pan dirty. Just turn it on saute mode for your hamburger and onions, then add everything else and turn on slow cooker mode. If you prefer to make this recipe on the stove top, start off by browning your hamburger with the onions in a large skillet. Drain any fat, then add everything else. Simmer on medium to medium high for at least 20 minutes to give all of the flavors time to combine.
Cooking this one from frozen? No need to defrost any more than to be able to get in in your crock pot! Put it in frozen, and increase cook time by about 1-2 hours.
This recipe is sponsored by the Glass Barn, but all thoughts and opinions are my own.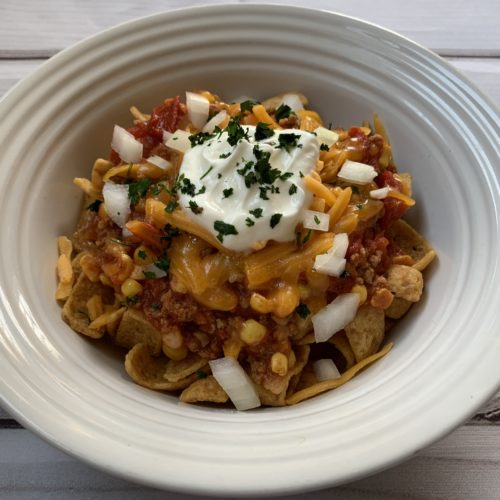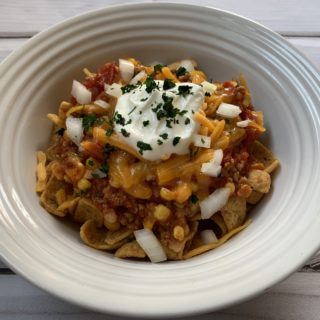 Slow Cooker No Bean Taco Chili
When life gets crazy, keep dinner easy and tasty with this Slow Cooker No Bean Taco Chili!
Ingredients
1

lb

Ground Beef

1

Medium Onion, Diced

1

Can

Corn, Drained

1

Can

Diced Green Chilies or Jalapenos

2

14 oz

Cans Diced Tomatoes

1

Can Tomato Sauce

3

tsp

Ground Cumin

1

tsp

Chili Powder

1

tsp

Onion Powder

1

tsp

Garlic Powder

1/2

tsp

Paprika

1

tsp

Kosher Salt

1

tsp

Black Pepper

Shredded Cheese, Sour Cream, Fritos Corn Chips, Diced Onion for Serving
Instructions
In a large skillet, brown the ground beef along with the diced onion.

Combined the browned beef and onion with the rest of the ingredients in the slow cooker. Cook on low for 5-6 hours or on high for 2 hours.