Dutch Sausage Rolls, or Saucijzenbroodjes, are a classic Dutch snack food that is easy to make at home with some store-bought puff pastry!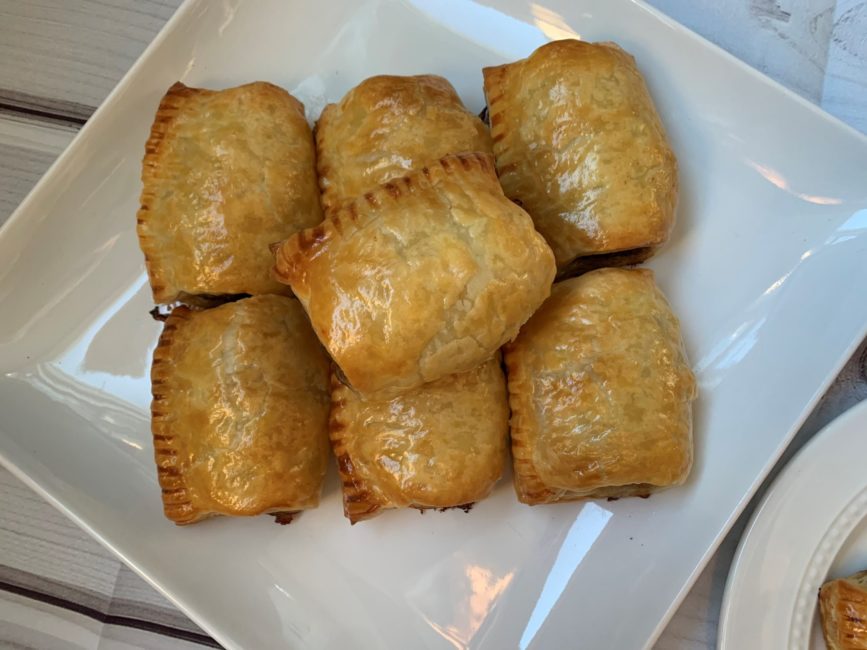 If you ever visit The Netherlands, I highly recommend checking out one of their snack bars. Snack bars are kind of like the Dutch version of a classic American drive-through restaurants, except without the waitresses on roller skates. And you don't drive through; most all snack bars are eat-in. Instead of chili dogs and root beer floats, you'll find frikandel special, bitterballen, bami ballen, kroketten, and so much more.
Basically you walk up to the counter, look into the freezer case (similar to an ice cream display case, but with savory treats instead of sweet!), pick what you want, and the helpful person behind the counter will put it in the fryer for you while you go have a seat. No, folks, snack bars are not about health food. Make sure you get an order of frietjes (fries) with mayonnaise and curry ketchup to go with your other goodies!
One of the other great Dutch snack food items are saucijzenbroodjes, or sausage rolls. These are seasoned meat (usually ground beef, despite the name sausage…) wrapped in flaky puff pastry and baked to delicious, golden perfection. They make a perfect after school snack or lunch on the go! The great thing about these sausage rolls is that they are SO easy to make at home and put in the freezer…even the kids can get involved!! Have them help mix up the meat mixture, roll it into fat logs, and put it on the pastry. Then, have them help put the egg wash on.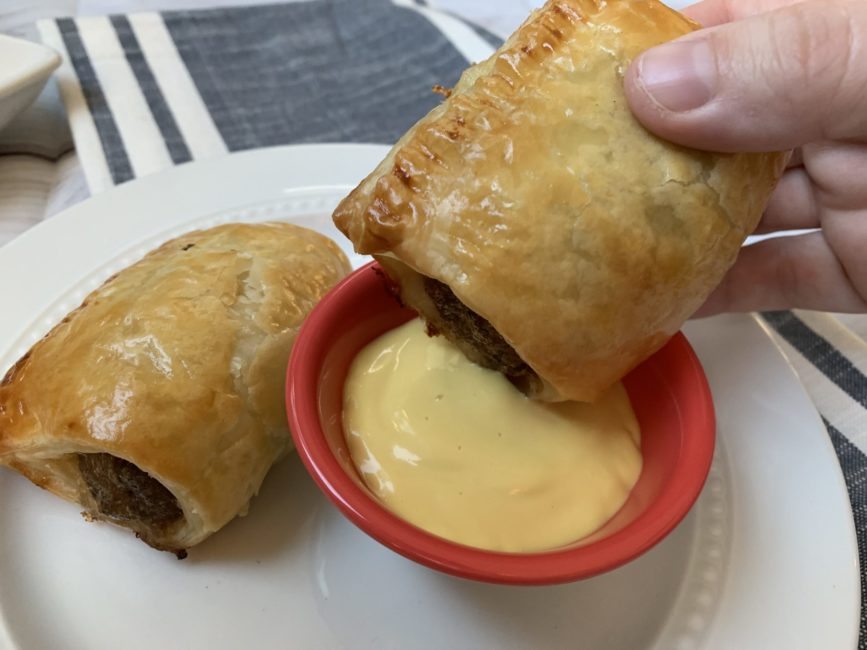 Tips for Making Saucijzenbroodjes:
-Feel free to make the puff pastry from scratch if you want. Or, take the easy way out, and buy the packaged stuff at the store. It's just as good, I promise!
-A leaner ground beef is going to be less greasy and there will be less of a risk of your pastry getting a little soggy.
-Saucijzenbroodjes are traditionally larger than mine are. If you would like a bigger one, just make two less cuts in the pastry to make longer rolls.
-To freeze: bake as directed, let cool, then flash freeze and put into baggies. When you want one, just take it out and stick it in the oven for about 20 minutes until heated through.
-Serve these bad boys with your favorite mustard. I recommend a good German style.
How to Make Saucijzenbroodjes:
Take your packaged puff pastry out of the freezer and lay it on the counter to defrost slightly. Preheat the oven to 425 degrees, and line a baking sheet with parchment paper. In a large mixing bowl, combine the ground beef, spices and seasonings, egg, and breadcrumbs. Mix thoroughly (hands are the best tools here). Set aside.
Lay the the puff pastry out flat in "landscape orientation". In other words, so the rectangles long sides are on the top and bottom. Make a cut horizontally down the middle. Make another cut down the center vertically, then cut those two vertical sections in half again, so there is a total of 8 pieces of puff pastry.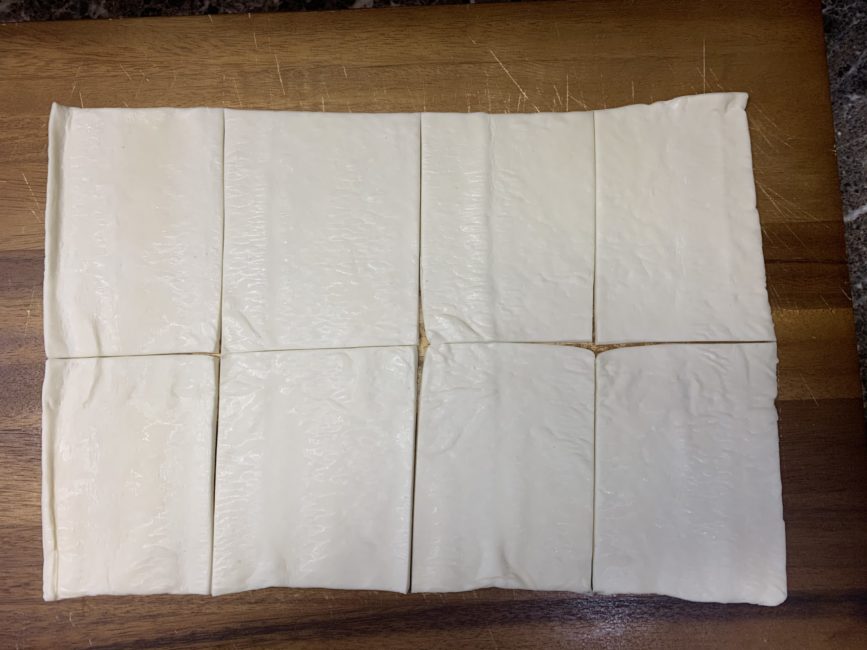 At this point, I like to go ahead and lay the pieces of puff pastry on the baking sheet spaced evenly apart. Take the meat mixture and roll into 8 evenly sized log shapes, laying each towards the top of each piece of pastry but giving yourself at least an inch of room at the top. The ends of the log should very slightly be over the edge of the puff pastry as they will shrink slightly with baking.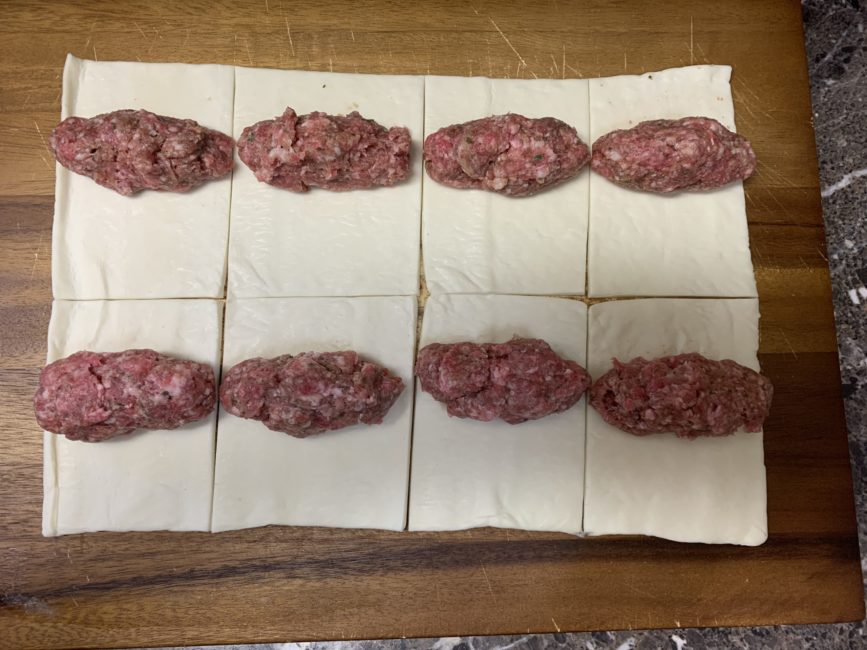 Beat an egg in a bowl, and with a pastry brush or your finger, put some egg wash on the top space left on the puff pastry. Then fold the rest of the pastry over the meat, matching the edges as well as you can and sealing tightly with a fork. It's fine if they aren't perfect! Paint each roll with egg wash, then bake for about 20 minutes, or until they are a deep golden brown. Let cool slightly and serve with mustard for dipping!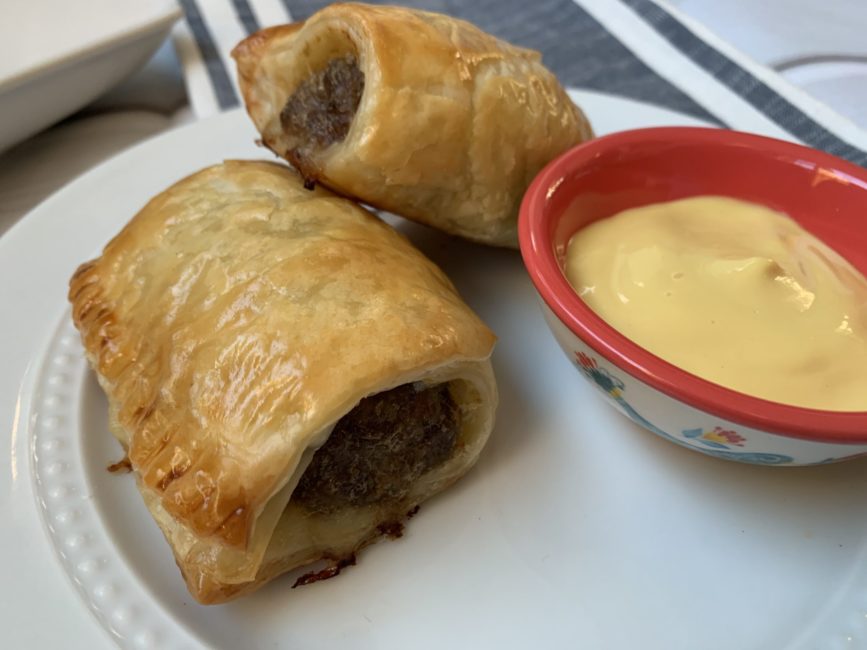 This post was sponsored by The Glass Barn, Indiana's Corn and Soybean Growers, but all thoughts and opinions are my own…ya dig?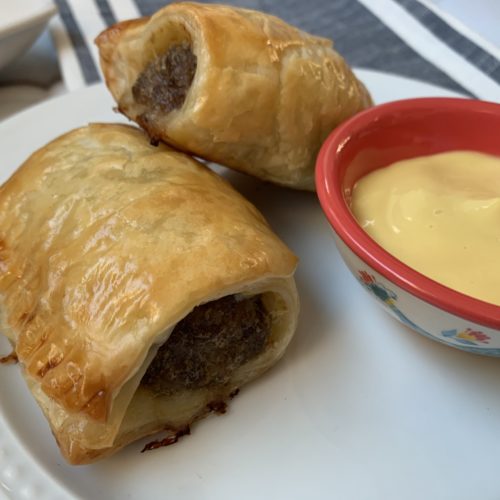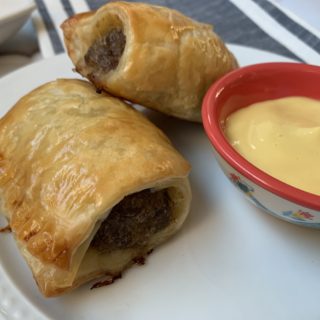 Saucijzenbroodjes - Dutch Sausage Rolls
Dutch Sausage Rolls, or Saucijzenbroodjes, are a classic Dutch snack food that is easy to make at home with some store-bought puff pastry!
Ingredients
1

Sheet

Puff Pastry

1

lb

Ground Beef

Or 50/50 beef/pork blend

1/2

tsp

Onion Powder

1/2

tsp

Garlic Powder

1/2

tsp

Gehakt Seasoning

Optional

1/4

tsp

Nutmeg

1/2 tsp if not using gehakt seasoning

1

tsp

Parsley

Dried or Fresh

2

Eggs, divided

2

Tbsp

Bread Crumbs
Instructions
Preheat oven to 425 degrees.

Set out puff pastry to thaw/warm slightly.

In a large bowl, combine the ground meat, 1 egg, bread crumbs, and spices. Using either your hands or a spoon, mix until everything is combined. Set aside.

Lay puff pastry sheet out flat. Using a knife, cut pastry sheet horizontally across the middle, then make three evenly spaced vertical cuts, so that the pastry is divided into 8 evenly sized rectangles.

Divide the meat mixture evenly between the 8 puff pastry rectangles. Roll meat portions into log shapes that are the same length as the puff pastry portion. Place the meat about 1/2 inch from the top of each puff pastry rectangle.

Beat 1 egg in a small bowl. Using a pastry brush or your finger, paint the puff pastry above the meat with the egg wash to act as a glue. Then, take the bottom of each puff pastry rectangle and fold it tightly over the meat. Seal the edge by pressing with a fork.

Paint each sausage roll with the egg wash.

Bake sausage rolls on a parchment paper lined baking sheet for 20 minutes, or until deep golden brown.

These can be eaten right way, or can be allowed to cool. They also freeze well! Serve with mustard of your choice.