Hachee, a classic Dutch dish most easily described as Stewed Beef, is full of mouth watering flavor and soul-comforting warmth!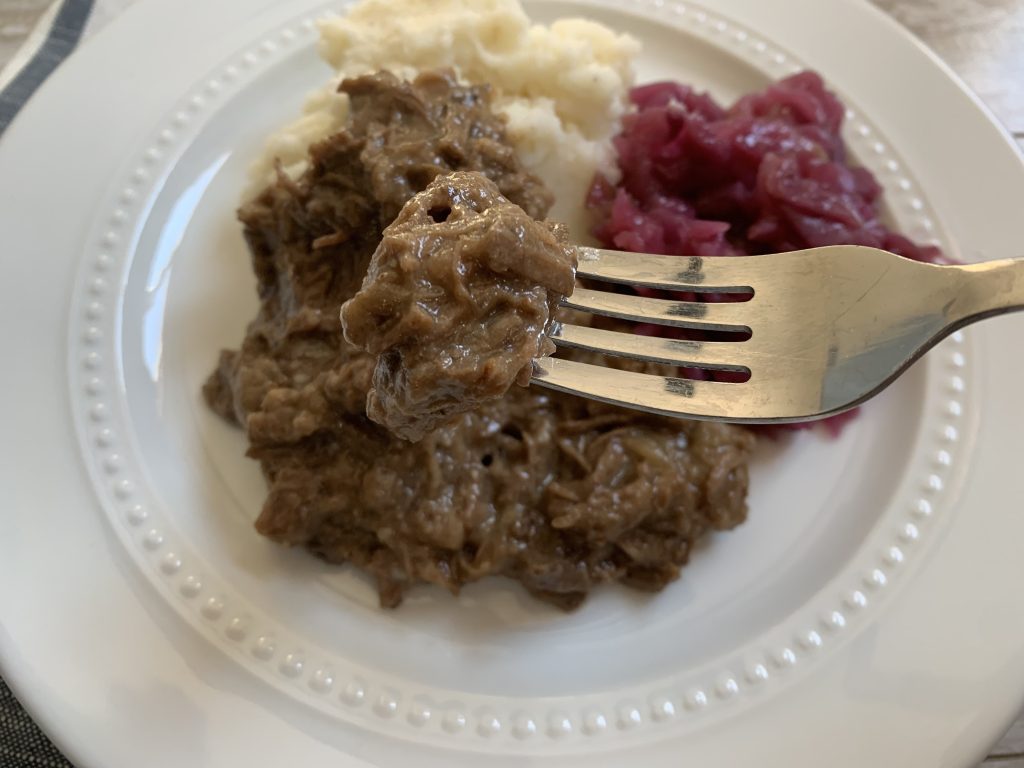 I'm telling you friends, if you want to experience the ultimate in comfort food, ask a Dutch grandma or mom to make you dinner. They definitely know their way around some amazing, stick to your ribs meals that make you feel like you're being wrapped in a warm hug.
Hachee, or Stewed Beef, is one of those recipes Dutch mamas and grandmas (or omas!) have been perfecting for hundreds of years. Literally. It has its roots in the middle ages as a way to use up leftover cuts of beef, and is traditionally served with Rode Kool Met Appeltjes (red cabbage with apples) and mashed potatoes. It's also super yummy over French Fries!
This recipe is another one that comes straight from the kitchen of Maria (aka Mama Maria, aka my wonderful Dutch Mother-in-Law). The flavor of this beef is so layered and complex, yet it is totally easy to make. It just takes a little time! Let's get to it, shall we?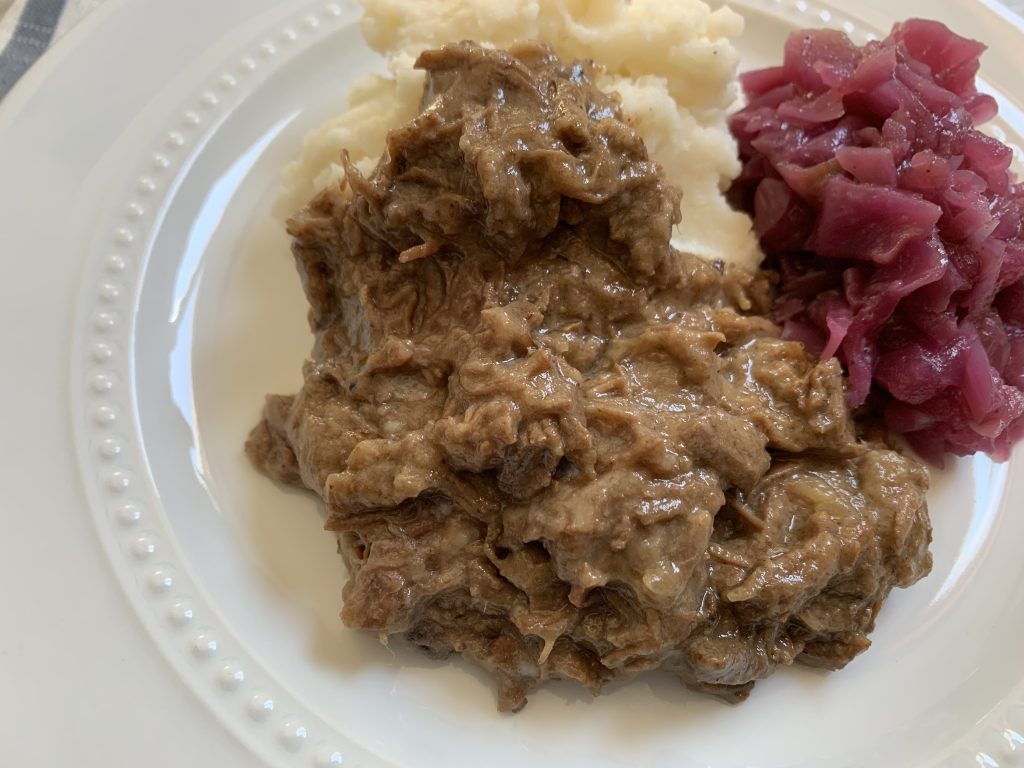 Tips for Making Hachee
-You can really use any cut of beef that stands up to a long cooking time with this recipe. I tend to either use chuck roast or stew meat.
-If you can't find marjoram, oregano is a fine substitute.
-Though I suggest using apple cider vinegar in this (especially if you are making cabbage to go along with it), you can totally use white vinegar if you want. Or red wine vinegar. Or white wine vinegar. Whatever you have on hand that floats your boat!
-I like sticking the whole cloves in a chunk of onion so that they are easier to find and fish out at the end.
-You can either leave the meat in chunks or give it a good stir to sort of shred it at the end. We prefer more broken apart or shredded, but that's personal preference.
Looking for More Great Dutch Recipes? Try one of These!
–Rode Kool met Appeltjes (Red Cabbage with Apples)
–Erwtensoep (Snert, or Split Pea Soup)
–Hutspot (Mashed Potatoes with Carrots and Onion)
–Pannenkoeken (Dutch Pancakes)
–Saucijenbroodjes (Dutch "Sausage" Rolls)
–Mama Maria's Dutch Style Green Beans
How to Make Hachee, or Dutch Stewed Beef
Cut your meat into small chunks, about 1 inch or so. Add the butter and olive oil to a large pan with a heavy bottom, such as a Dutch Oven, and heat over medium-high heat. Brown the meat in the butter/oil mixture, working in batches so the pan stays hot and everything browns evenly. Add the onions and sauté until they are slightly golden brown, then deglaze with the vinegar, making sure to scrape the bottom of the pan to get all of the brown bits off of the bottom of the pan.
Next, add in the water, bouillon cube, and the spices. Cover and let cook for about two hours, until the meat is tender. Remove the bay leaves and cloves. If you prefer the meat to be left in bigger pieces, remove it to a plate. If you prefer it more shredded, leave it in the pan.
Make a slurry with a little flour and water, and add it to the pan to thicken. Tastes for seasoning (salt, pepper, vinegar). If you removed the beef, add it back in. Serve with Rode Kool and mashed potatoes, or over fries.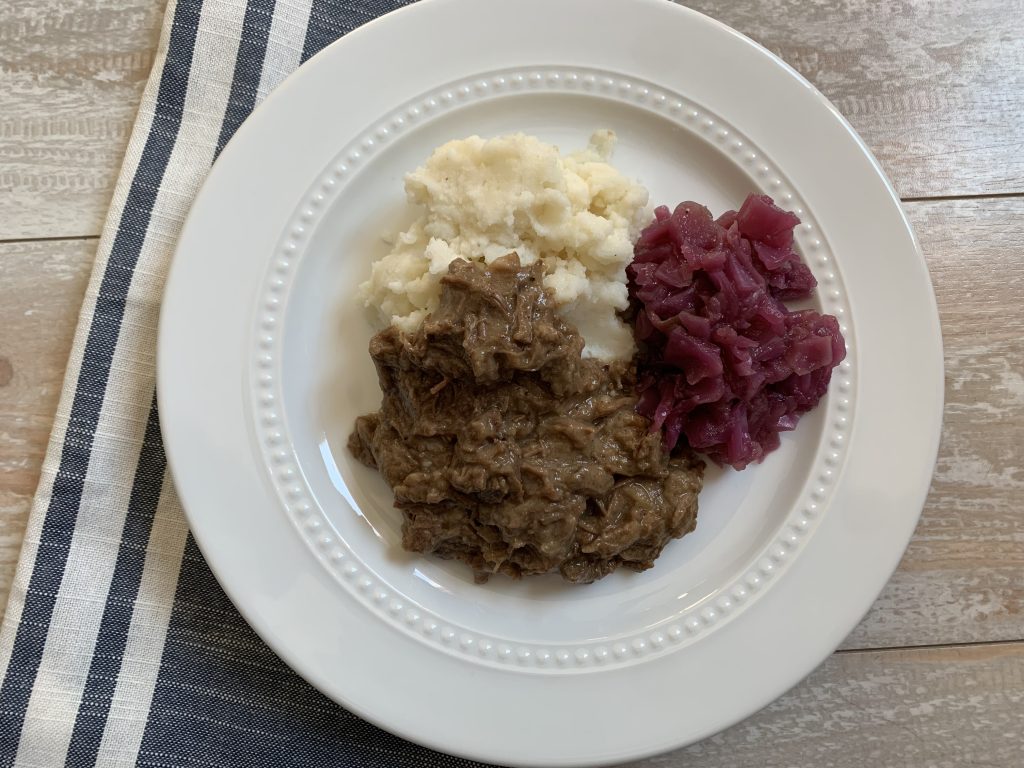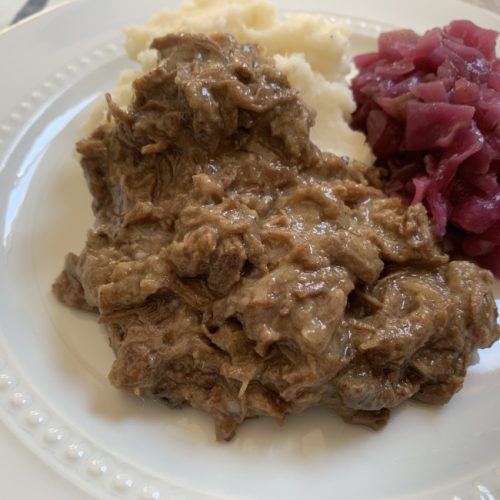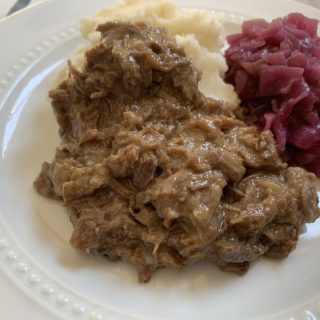 Hachee – Dutch Stewed Beef
A classic Dutch dish that has been around for centuries, Hachee (or stewed beef) is full of mouth watering flavor and soul warming comfort!
Ingredients
2

lbs

Beef, such as stew meat or chuck roast

1/2

Tbsp

Butter

1/2

Tbsp

Olive Oil

2

Medium Onions, sliced or diced

1

Bouillon Cube, Vegetable or Beef

3

Bay Leaves

3

Whole Cloves

2

tsp

Dried Marjoram

2-3

Tbsp

Apple Cider Vinegar

1

Tbsp

All Purpose Flour

4

Cups

Water, approximately

Salt and Pepper, to taste
Instructions
Cut beef in to 1 inch cubes. Season with salt and pepper.

In a deep, heavy bottomed pan (such as a Dutch Oven), heat the butter and oil, and brown the meat on all sides. Work in batches if necessary.

Once all of the meat is browned, return it all to the pan and add in the onion and sauté until the onion is golden brown.

Add the vinegar, scraping the bottom of the pan to pick up any brown bits. Add enough water to cover the meat. Add in the bouillon cube and the rest of the herbs and spices.

Cover and simmer on low/medium for around to hours, until the meat is very tender.

Once the meat is cooked, stir in the flour and cook a little longer (15 minutes or so) to thicken. Check for seasoning. Add more salt, pepper, or vinegar as needed. Remove the cloves and bay leaves.

Serve with Rode Kool (braised red cabbage with apples) and mashed potatoes, or over rice or french fries.